When it comes to supermarkets in Portugal, names like Lidl, Aldi, and Auchan often steal the spotlight, attracting both locals and tourists with their budget-friendly prices and diverse selections. 
These retail giants have undoubtedly left their mark on the Portuguese grocery scene. However, what if we told you that there are hidden gems within Portugal's supermarket landscape that you might not have heard of before? 
Enter Continente and Pingo Doce – two retail chains that have quietly gained a loyal following and offer a shopping experience that rivals the more well-known competitors. 
In this article, we invite you to step off the beaten path and explore the best supermarkets in Portugal. Get ready to embark on a culinary journey through these lesser-known yet equally remarkable supermarket destinations.
Best supermarkets in Portugal
Continente
Continente is one of Portugal's largest supermarket chains and it has a strong presence throughout the country, with numerous hypermarkets, supermarkets, and convenience stores.
Continente is part of the Sonae Group, a prominent Portuguese conglomerate and count with more than 500 stores across Portugal, including both hypermarkets and smaller neighborhood supermarkets.
Pingo Doce
Pingo Doce is another major supermarket chain in Portugal, known for its wide range of products and modern store layouts. It has a significant presence in urban and suburban areas.
Pingo Doce is owned by the Jerónimo Martins Group, a Portuguese multinational company and has over 400 stores throughout Portugal, making it one of the most widespread supermarket chains in the country.
Intermarché
Intermarché is a French-owned supermarket chain with a growing presence in Portugal. It offers a mix of groceries, fresh produce, and household items.
With a solid presence in Portugal has around 250 stores across Portugal, including supermarkets and hypermarkets.
Lidl
Lidl, another German discount supermarket chain, has been present in Portugal for several years. It is known for its weekly specials and wide range of private-label products. Lidl has more than 250 stores across Portugal.
Minipreço
Minipreço is known for its convenience stores and competitive prices with approximately 450 stores, making it one of the most accessible supermarket chains in Portugal.
It caters to the needs of customers looking for quick grocery shopping.
Aldi
Aldi is a German discount supermarket chain known for its streamlined shopping experience and focus on affordability. Aldi had over 80 stores in Portugal, and it continues to expand its presence in the country.
Mercadona
Mercadona, a Spanish supermarket chain, expanded into Portugal in 2019 and for now only counts with few stores in the northern of Portugal.
It is known for its focus on fresh produce and customer service.
Mercadona was in the process of gradually opening its stores in Portugal, with plans for further expansion.
Spar
Spar is a global retail chain, but its presence in Portugal is relatively smaller compared to some of the local giants.
It operates both supermarkets and convenience stores in select areas.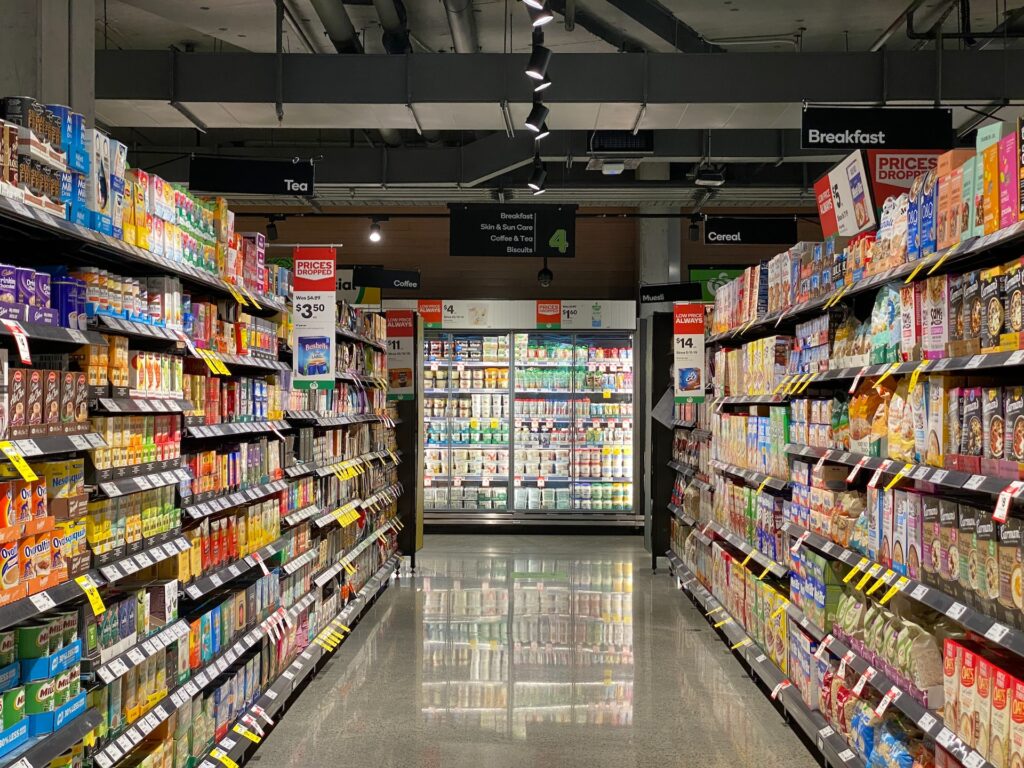 In Portugal, store opening hours generally follow a standard schedule, with most supermarkets and hypermarkets opening their doors from 8:00 AM to 9:00 PM on weekdays. However, there are exceptions to this rule, and opening hours can vary based on factors such as location and the type of store.
In large commercial complexes or shopping malls, you can often find supermarkets and hypermarkets that extend their closing times beyond the standard 9:00 PM. These extended hours are designed to accommodate shoppers who prefer to do their grocery shopping later in the day or during evening hours. In such cases, it's not uncommon to see these stores open until 11:00 PM or even mid-night, especially in major urban areas.
Convenience stores, on the other hand, are known for their flexibility in terms of opening hours. Many convenience stores in Portugal are open longer, with some staying open late into the night. This is particularly useful for those looking to purchase essential items after regular store hours.
Online shopping in Portugal
Online supermarket shopping in Portugal has become increasingly popular and convenient in recent years, with several major brands offering their services. Shoppers in Portugal can now enjoy the ease and comfort of purchasing groceries and household items online, thanks to a variety of well-established supermarket chains that have established robust online platforms.
Major Brands with Online Stores: Portugal boasts a diverse selection of major supermarket chains that have embraced online shopping. These brands include Continente, Pingo Doce, Auchan, Jumbo, and Mercadona. 
Online Promotions: One of the advantages of shopping for groceries online in Portugal is the availability of online promotions and discounts. Supermarkets often provide special offers, deals, and exclusive discounts to online shoppers. 
Well-Accommodated Grocery Selection: Online supermarkets in Portugal are well-equipped to meet the diverse needs of customers. Shoppers can browse through a wide variety of products, including fresh produce, meat, dairy, pantry staples, and household essentials. 
Flexible Delivery Options: To enhance the convenience of online shopping, most of these supermarket chains offer flexible delivery options. Customers can select their preferred delivery times, making it easy to schedule deliveries around their busy lives. Some supermarkets even offer same-day or next-day delivery services in select areas, ensuring that customers receive their groceries promptly.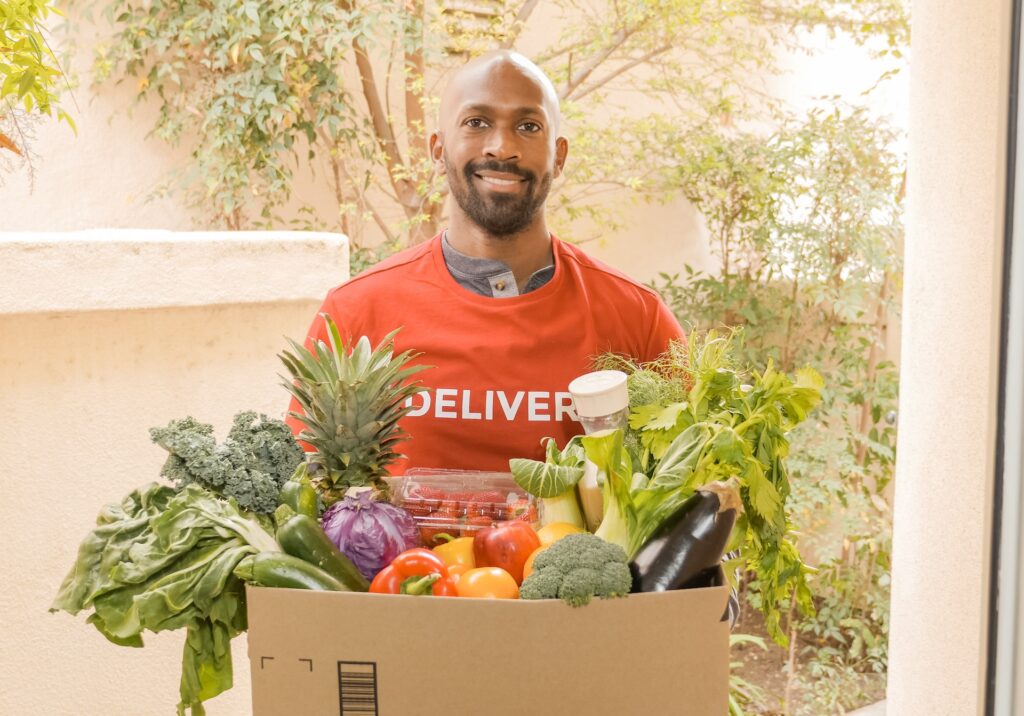 Organic stores in Portugal
Portugal has a growing interest in organic and natural products, and you can find organic stores and markets across the country. Here are some organic stores and chains in Portugal:
Celeiro: Celeiro is one of the most well-known chains of organic and natural product stores in Portugal. They offer a wide range of organic foods, supplements, natural cosmetics, and household products. You can find Celeiro stores in many cities, including Lisbon and Porto.
Website: https://www.celeiro.pt/
Go Natural: Go Natural is another popular chain of stores that focuses on organic and natural products. They offer a variety of organic foods, fresh produce, and health and wellness items. Go Natural has locations in major cities like Lisbon and Cascais.
Website: https://www.gonatural.pt/
Brio: Brio is a chain of organic and ecological supermarkets in Portugal. They have an extensive selection of organic and natural foods, as well as eco-friendly household products. Brio has stores in Lisbon and Porto, among other locations.
Website: https://brio.pt/
Natur House: Natur House is a health and wellness store that offers organic and natural products, including dietary supplements, herbal teas, and organic foods. 
Website: https://naturhouse.pt/
Bioforma: Bioforma is a chain of stores in Portugal that focuses on natural and organic products, including supplements, organic foods, and natural cosmetics with stores in various cities.
Website: https://bioforma.pt/
Mercearia Bio: Mercearia Bio is a small grocery store in Lisbon that specializes in organic and biodynamic products. They offer a range of organic foods and pantry staples.
Website: https://www.merceariabio.pt/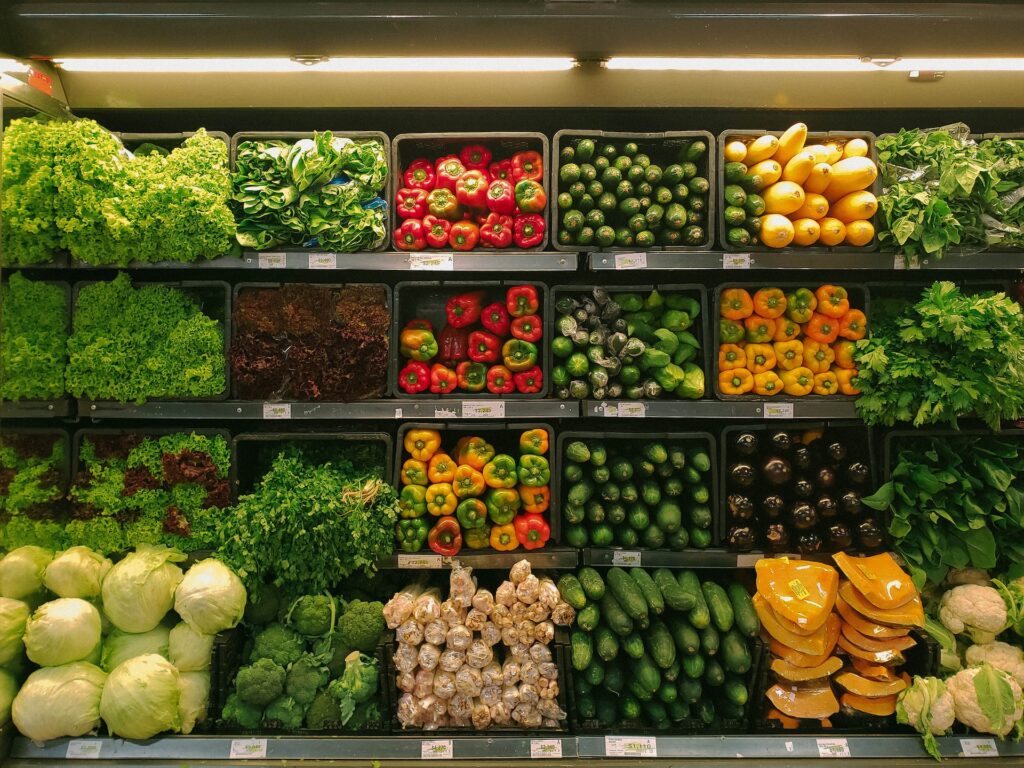 Traditional Portuguese markets
Portugal is known for its vibrant markets, where you can experience the country's rich culinary traditions, artisanal crafts, and local culture. Here are some famous Portuguese markets that are worth exploring:
Mercado da Ribeira (Time Out Market) – Lisbon: This bustling market in the heart of Lisbon is a food lover's paradise. It features stalls and restaurants offering a wide range of Portuguese and international cuisine. It's a great place to sample local dishes and explore the culinary diversity of Portugal.
Mercado de Bolhão – Porto: The Mercado de Bolhão is one of Porto's most iconic markets. While it's currently undergoing renovations, it's known for its historic charm and vibrant atmosphere. You can find fresh produce, seafood, meats, cheeses, and traditional Portuguese products.
Mercado do Livramento – Setúbal: Located in Setúbal, this market is famous for its fresh seafood, especially the local specialty, choco frito (fried cuttlefish). You can also find a variety of fresh produce, cheeses, and regional products.
Mercado de Loulé – Loulé, Algarve: The Mercado de Loulé is a traditional market in the Algarve region. It's known for its colorful stalls selling fruits, vegetables, fish, and regional Algarvian products. The market building itself is an architectural gem.
Mercado dos Lavradores – Funchal, Madeira: This lively market in Funchal, Madeira, is a feast for the senses. It's renowned for its exotic fruits, flowers, and local crafts. The flower section is particularly beautiful and fragrant.
Mercado Municipal de Faro – Faro, Algarve: Faro's municipal market is a great place to explore local Algarvian flavors. You'll find fresh seafood, meats, cheeses, fruits, and traditional desserts. It's also an excellent spot to pick up souvenirs.
Mercado de Santa Clara (Feira da Ladra) – Lisbon: This famous flea market in Lisbon, also known as "Feira da Ladra," is a treasure trove of antiques, vintage items, and second-hand goods. It's a fun place to browse for unique finds and immerse yourself in the local culture.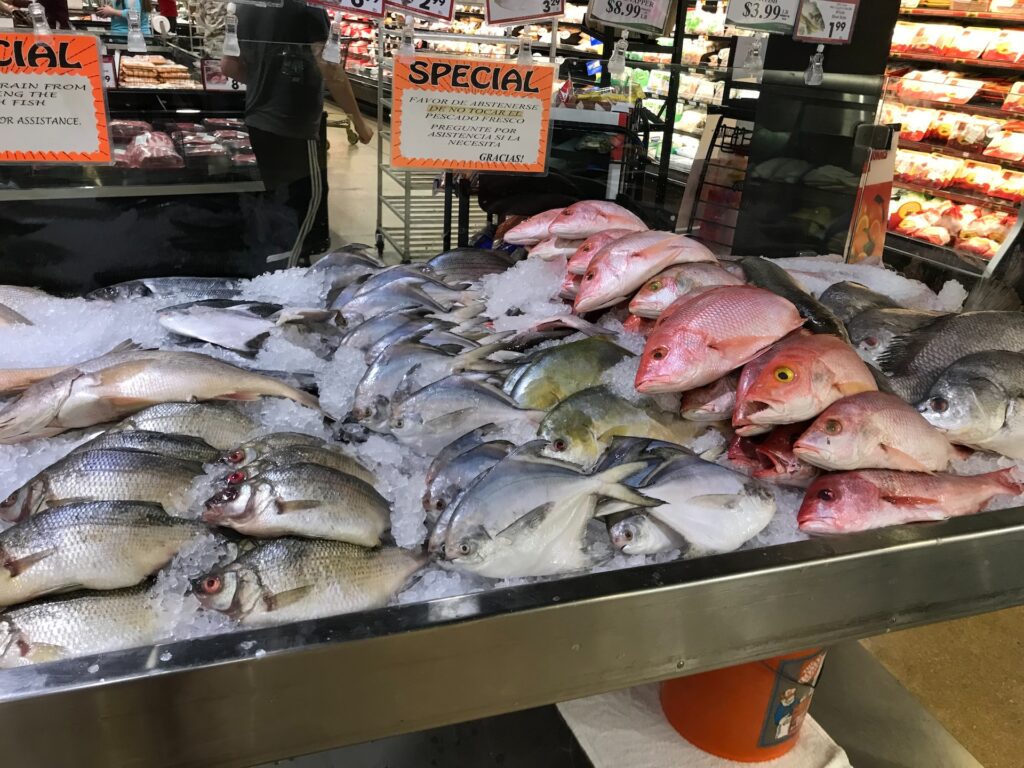 International food in Portugal
International food shopping in Portugal can be an exciting way to explore global cuisines and find ingredients and products from around the world. Here is a list of international food shopping options in Portugal:
American Food
American Store: This store, located in Lisbon, specializes in American products and imports. You can find a variety of American snacks, candies, cereals, and other grocery items.
Address: Rua do Instituto Industrial, 7C, 1200-225 Lisboa, Portugal
Asian Food
Asia Supermercado: Located in Lisbon, this Asian supermarket offers a diverse selection of Asian products, including ingredients for Chinese, Japanese, Korean, Thai, and Vietnamese cuisines.
Address: Rua da Palma, 246, 1100-394 Lisboa, Portugal
Mercado Asiático de Lisboa: This market in Lisbon is known for its wide range of Asian products, including fresh produce, snacks, sauces, and spices.
Address: Rua de São Lázaro, 88, 1150-333 Lisboa, Portugal
Brazilian Food
The presence of a significant Brazilian expat community in Portugal has led to the establishment of numerous Brazilian supermarkets, particularly in major cities like Lisbon and Porto.
Mercado Brasil Tropical: In both Lisbon and Porto, is the primary Brazilian supermarket of note.
Frequently asked questions about Supermarkets and Grocery Shops in Portugal
Are supermarkets closed on Sunday in Portugal?
Supermarkets and shops no longer have mandatory closures on Sunday afternoons and holidays. Shopping centers and malls typically operate from 10:00 AM to at least 10:00 PM, often extending until midnight in major cities and towns.
Is Portugal expensive for shopping?
Portugal can be an affordable destination for shopping compared to some Western European countries, but the cost of shopping depends on what you're buying. Everyday groceries are usually reasonably priced. However, luxury or imported items may be more expensive.
What is the most popular supermarket in Portugal?
According to a survey conducted among Portuguese consumers in June 2022, Lidl emerged as the most favored supermarket.
What is the best time of day shop in supermarket?
The best time to shop in a supermarket can vary depending on your preference. Mornings tend to be less crowded, offering a quieter and more relaxed shopping experience. However, if you're looking for discounted items or clearance sales, some supermarkets may reduce prices in the evening to clear out perishable goods.
What time do supermarkets close in Portugal?
On weekdays, supermarkets in Portugal generally close later, often between 8:00 PM and 09:00 PM. Again, this can vary depending on the specific supermarket and its location.
Are 24/7 shops popular in Portugal?
24/7 shops, which are open 24 hours a day, 7 days a week, are not as common in Portugal as they may be in some other countries. In Portugal, many businesses, including most supermarkets and stores, typically have more limited operating hours, especially in smaller towns and outside major cities.
Are there organic stores in Portugal?
Yes, there are organic stores in Portugal. Portugal has seen a growing interest in organic and natural products, and you can find organic stores and markets in various cities across the country such as Celeiro, Go Natural or Brio.