For many Turkish seeking to secure an EU passport, Portugal emerges as a compelling and strategic choice. The allure of European citizenship is undeniable, offering access to a wealth of opportunities, benefits, and global mobility. In this pursuit, Portugal's welcoming and well-structured residency and citizenship programs have garnered significant attention. 
This article explores why Portugal has become a favored destination for Turkish citizens on their quest to obtain an EU passport, delving into the factors that make it a promising gateway to European citizenship and all the advantages it entails.
Why is Turkey not in the EU?
Turkey's journey toward European Union (EU) membership has been long and complex, with several factors contributing to its non-membership status:
Political and Economic Challenges: Turkey has faced challenges in terms of political stability, human rights, and the rule of law, which have raised concerns among EU member states about the country's readiness to align with EU values and standards.
Cyprus Dispute: The long-standing conflict between Turkey and Cyprus has been a significant stumbling block. Turkey does not recognize the Republic of Cyprus, an EU member, and this has strained relations with the EU.
Differences on Key Policies: Differences in policy areas such as freedom of the press, minority rights, and civil liberties have caused friction between Turkey and the EU.
Refugee Crisis: The EU-Turkey deal on migration management, which aimed to control the flow of refugees into the EU, has been a contentious issue, with disagreements over its implementation.
Economic Disparities: Turkey's economy differs significantly from those of many EU member states. This has created challenges in terms of economic convergence, trade policies, and customs union updates.
Geopolitical Factors: Geopolitical considerations, especially Turkey's strategic location at the crossroads of Europe and Asia, have made its membership a complex and politically charged issue.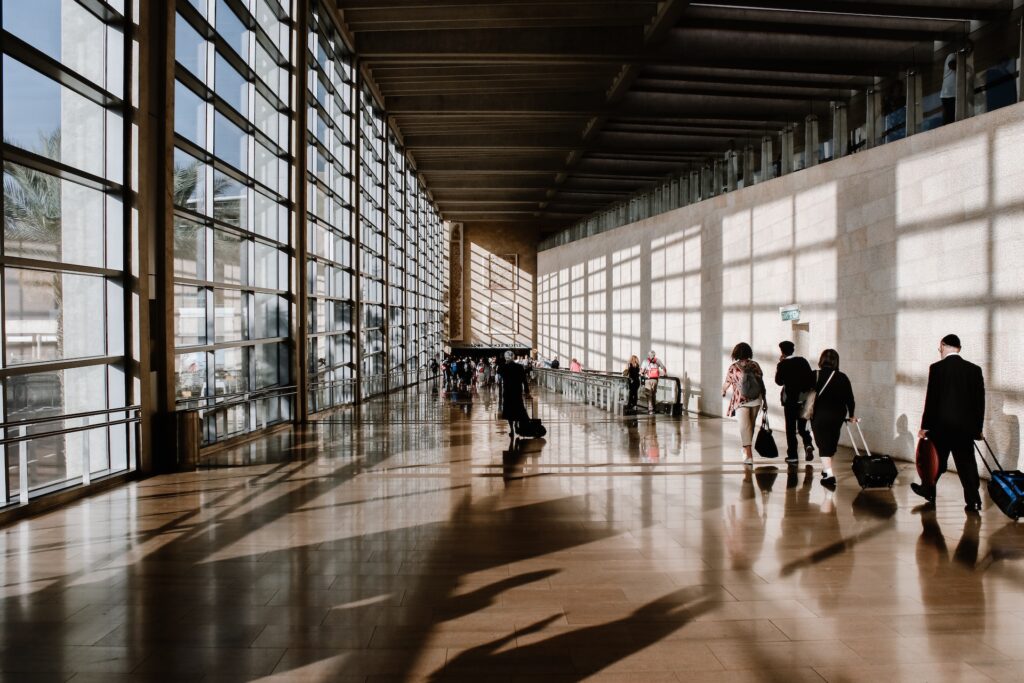 Becoming an EU (European Union) resident, either as a national of an EU member state or a non-EU citizen with legal residency in an EU country, offers several benefits, including:
Freedom of Movement: EU residents can move, live, work, and study in any EU member state without needing a visa or work permit. And may also enjoy visa-free travel to many countries, as the EU has negotiated visa waivers with several nations.
Access to Healthcare: EU residents often have access to healthcare in any EU country through reciprocal agreements, ensuring essential medical coverage.
Education: EU residents can often enjoy reduced or equal tuition fees and access to education on par with nationals in their resident country.
Job Opportunities: EU residents can seek employment across the EU without discrimination based on nationality.
Social Benefits: EU residents may have access to social security benefits, such as unemployment, maternity, and family benefits, in the country they reside.
Judicial Protection: EU residents can seek protection from the European Court of Justice (ECJ) if they believe their rights under EU law have been violated.
Family Reunification: EU residents may have the right to reunite with family members living in other EU countries.
Euro Currency: In countries that use the euro, EU residents benefit from a stable and widely accepted currency.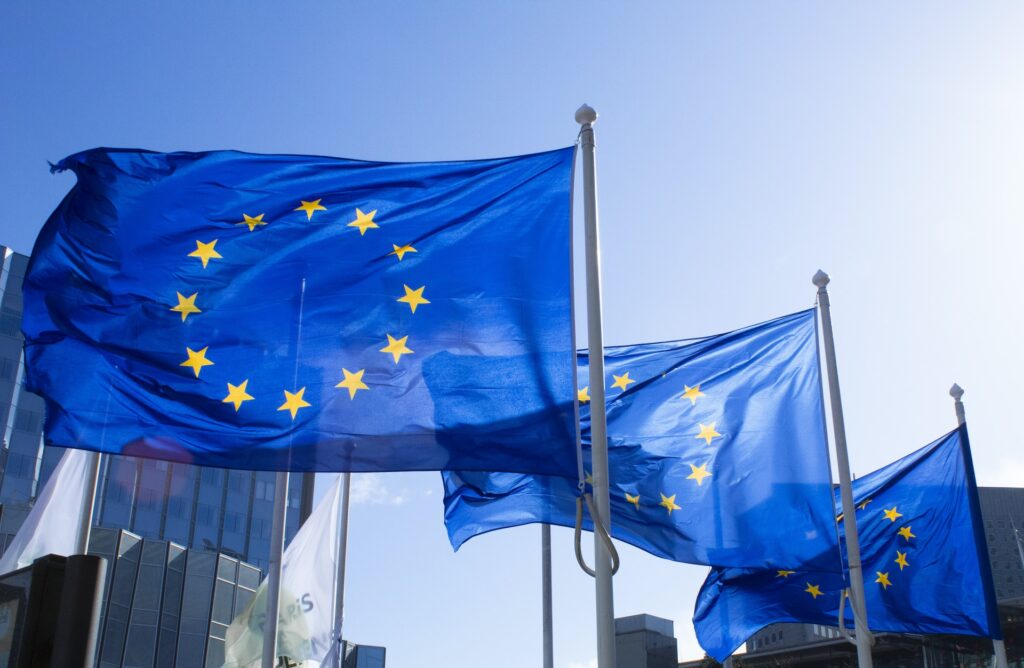 How immigrate from Turkey to Portugal?
Similar to any international relocation, Turks planning to move from Turkey to Portugal must follow the requisite immigration procedures to ensure a seamless transition and establish their legal status in their new homeland.
For non-EU citizens, including Turks, who intend to reside in Portugal for more than 90 days, it is vital to kickstart the process by applying for a residence visa. This visa will provide the necessary authorization to live in Portugal for an extended period.
Upon arrival in Portugal, the next critical step for Turkish citizens is to visit the SEF (Serviço de Estrangeiros e Fronteiras), or the Immigration and Borders Service. At SEF, you can complete the application for a residence permit, a fundamental requirement for solidifying your legal residency in the country.
Immigration Visas for Turkish Citizens
Turkey citizens who want to relocate to Portugal have access to different types of visas, depending on the purpose of their move. The specific types of visas available in Portugal for Turks are:
Portugal D7 Visa, also known as the Retirement Visa or Passive Income Visa, was introduced in 2007 by the Portuguese government, allowing non-EU/EEA/Swiss citizens to apply for temporary residency in Portugal.
Retirees and individuals with a minimum regular minimum passive income of €760 per month can apply for the Portugal D7 Visa. This income can include pensions, real estate, royalties, dividends, financial investment, or intellectual property.
The D8 Visa also know as, Digital Nomad Visa Portugal, was introduced in October 2022 by the Portuguese government, allowing non-EU/EEA/Swiss citizens to apply for temporary residency in Portugal while working remotely from Portugal. 
The Portugal Digital Nomad Visa has two different routes:
Temporary Stay Visa: The Temporary Stay Visa is perfect if you don't want to apply for permanent residency, but you would like to stay in Portugal for an extended period. The Visa is valid for one year and can be extended for another two years. 
Residence Permit: The Residency Visa is a good solution if you want to stay in Portugal for more than one year. Please note that your Temporary Resident Visa is only valid for four months and within this period you need apply for a Permanent Residency Permit.
D2 Visa Portugal also known as the "Entrepreneur Visa" or "Business Visa" was launched in 2018 and is a type of long-stay visa for Portugal that is specifically designed for entrepreneurs who want to start or buy a business in Portugal. 
The visa allows non-European Union citizens to stay in Portugal for up to 4 months and after applying for the resident permit. A Portuguese Residence Permit after the D2 Visa is valid for two years and then it can be renewed for three years contingent on the continuity of the applicant's professional activities. 
The Portugal Golden Visa program in Portugal, also known as the Residence Permit by Investment Program, is an investment immigration program that grants residency and citizenship rights to foreign investors who make a significant economic contribution to the country. 
Investment funds: Contribution of €500,000 or higher, for the acquisition of units of investment funds or venture capital fund of funds under the Portuguese. 
Business Investment: Minimum investment of €500,000 for constitution of a company in Portugal, combined with the creation of five permanent working jobs.
Scientific research: Capital transfer with a value equal to or above €500,000 for investing in research activities conducted by public or private scientific research institutions.
Cultural heritage contribution: Known as the Cultural Golden Visa, donation of a minimum of €250,000 for investing in artistic output or supporting the arts, for reconstruction or refurbishment of the national heritage.
Job Creation: Incorporating a company and creation of at least, ten jobs positions. 
In the last three options mentioned above, if the investment is located in a designated 'low-density' area, then a 20 percent discount applies.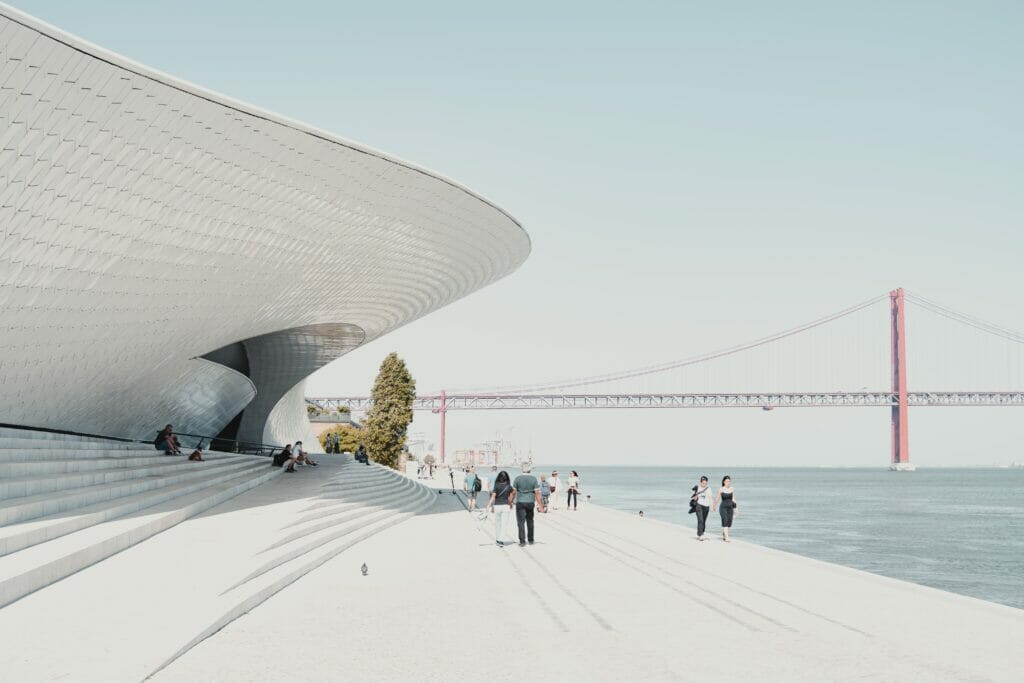 How Turkish can apply for a Portugal residency Visa?
The initial step in your move from Turkey to Portugal is to apply for a Portuguese residence visa. To do so, you must submit the appropriate documentation to one of the Portuguese consulate offices in Turkey. Here are the requirements to keep in mind when applying for a residence visa:
Visa Application Form
Your Valid Passport
Two recent passport-size photos
Criminal Record certificate
Valid travel insurance, including medical coverage and repatriation
Documentary evidence of having accommodation in Portugal
Proof of sufficient means in Portugal (latest 3 months bank statements)
Declaration with the reasons for requesting Portuguese Residency
Processing time for visa application to Portugal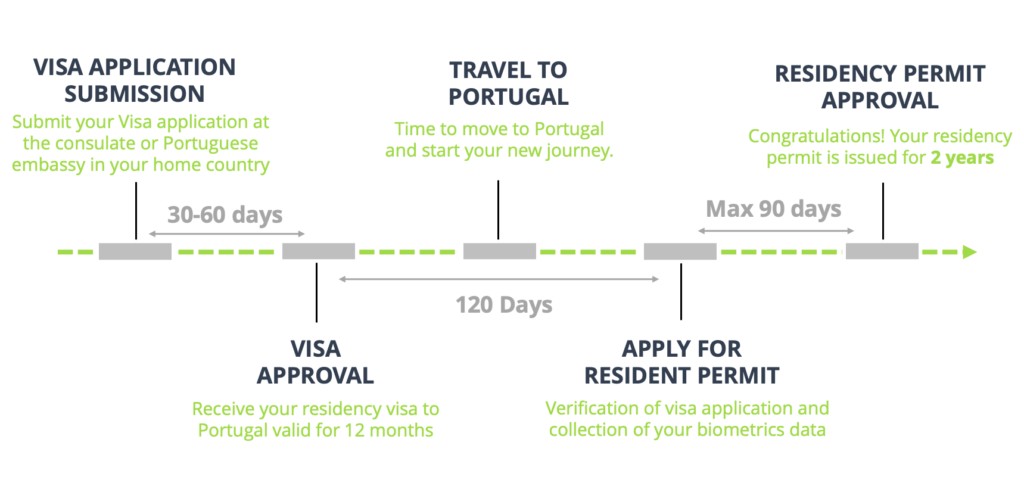 Portuguese Citizenship after 5Y Residency
Turkish nationals after residing in Portugal for five years as legal temporary residents they can opt to continue renewing their temporary residence status, apply for Permanent Residency, or simultaneously apply for Portuguese citizenship through naturalization.
Permanent residency in Portugal comes with various advantages when compared to temporary residency, as it offers a status that doesn't come with a fixed expiration date, although it does involve periodic compliance with minimum stay requirements, typically every five years.
Portuguese citizenship is a lifelong status that provides individuals with all the inherent rights associated with Portuguese nationality. These privileges encompass the right to vote, travel freely, and establish residence in any European Union member state. Obtaining Portuguese citizenship makes you eligible to apply for the Portuguese passport, an option that permanent residency status in Portugal does not grant.
Where do Turkish expats live in Portugal?
Turkish citizens and the Turkish community in Portugal are relatively small compared to some other expatriate groups, so they are not concentrated in specific neighborhoods or regions. Turkish residents in Portugal can be found in major cities and regions, with Lisbon and its metropolitan area being one of the primary destinations for many expatriates.
Lisbon, as the capital and the largest city, is naturally a hub for international residents, including Turks. Additionally, cities like Porto, Faro, and other urban centers may have small Turkish communities, but they are generally integrated within the broader expatriate population.
It's important to note that the Turkish community in Portugal is diverse and may consist of students, professionals, and individuals and families pursuing various opportunities, including education, work, and lifestyle. As such, they can be found in different areas throughout the country, depending on their specific needs and preferences.
Disadvantages of living in Portugal
Bureaucracy
Dealing with government institutions and paperwork can sometimes be a time-consuming and frustrating process in Portugal. While efforts are made to streamline procedures, some expats may find that navigating the bureaucracy can be more complex than they are accustomed to.
Traffic and Public Transportation
Major cities like Lisbon and Porto often experience traffic congestion, particularly during rush hours. While public transportation has improved in recent years, it may not be as extensive or punctual as in some other European capitals. Dependence on a car may be necessary in some regions, which can be costly and contribute to traffic-related stress.
Salaries
It's worth noting that average salaries in Portugal tend to be lower than those in some other Western European countries. This can impact one's lifestyle and purchasing power, making it important for expats to manage their budgets effectively, especially in high-cost urban areas.
Healthcare Wait Times
Portugal's healthcare system is generally good and offers universal coverage. However, longer wait times for non-urgent treatments can be a concern. This means that for some medical procedures, you might need to wait longer than you would in countries with more extensive healthcare facilities.
Limited Job Market in Specific Fields
While Portugal provides opportunities in various sectors, some highly specialized fields may have limited job prospects. This may necessitate individuals to explore employment opportunities in other countries or consider career shifts.
Overcrowded Tourist Areas
Portugal's popularity as a tourist destination means that certain areas, particularly in the Algarve and Lisbon, can become heavily overcrowded during the peak tourist season. This influx of visitors can lead to challenges like crowded public spaces, higher prices, and increased noise levels, which can affect the quality of life for residents in these areas.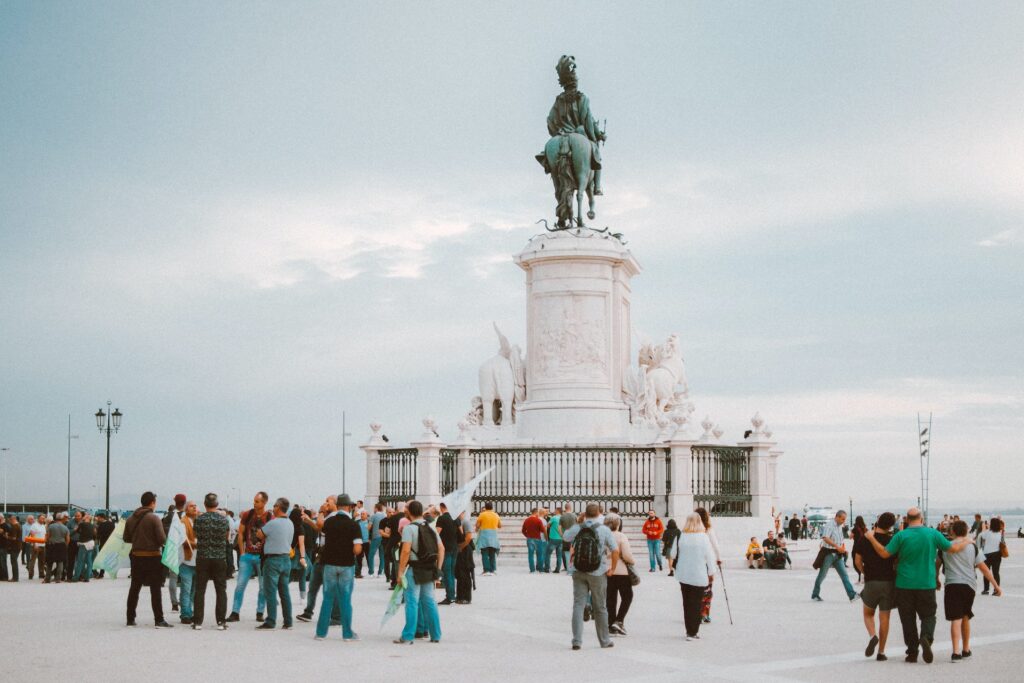 Taxation in Portugal vs. Turkey
Taxation in Portugal and Turkey differs in terms of tax rates, types of taxes, and regulations. Here's a general overview of taxation in both countries:
Personal Income Tax (IRS): Portugal uses a progressive tax system with rates ranging from 14.5% to 48%. In some cases, a special flat rate of 10% may apply to non-habitual tax residents on foreign income.
Corporate Tax (IRC): The corporate tax rate in Portugal is 21% for most companies. There's a reduced 17% rate for small and medium-sized enterprises.
Value Added Tax (VAT): Portugal applies VAT with standard rates of 23% and reduced rates of 13% and 6% on various goods and services.
Wealth Tax: wealth tax starting from 0,7% for high-value local properties over €600,000.
Inheritance and Gift Tax: Portugal does not have inheritance or gift tax between close family members, but stamp duty may apply to inherited real estate.
Personal Income Tax (Gelir Vergisi): Turkey uses a progressive tax system with rates ranging from 15% to 35%.
Corporate Tax (Kurumlar Vergisi): The corporate tax rate in Turkey is 20%. However, certain industries may have different rates.
Value Added Tax (KDV): Turkey applies VAT with standard rates of 18% and reduced rates of 1%, 8%, and 5%.
Wealth Tax: Turkey has a wealth tax on individuals and legal entities with substantial net wealth.
Inheritance and Gift Tax: Turkey has inheritance and gift taxes with rates varying based on the relationship between the donor and the recipient.
Double Taxation Agreement between Portugal and Turkey
Portugal and Turkey signed a Double Taxation Agreement on April 18, 1983, which entered into force on December 30, 1984. The agreement covers taxes on income and on capital, including income taxes, corporate taxes, capital gains taxes, and inheritance taxes.
The DTA allocates taxing rights between Portugal and Turkey based on residence, source, and investment income. Income derived by a resident of a Contracting State is taxable only in that State, while income derived by a non-resident is taxable only to the extent it's attributable to a permanent establishment or fixed base in that State. Investment income is generally taxable in the recipient's country of residence, but the DTA may limit withholding taxes imposed by the source country.
To avoid double taxation, the DTA provides methods such as foreign tax credit and exemption. Residents of Portugal and Turkey can credit foreign taxes paid against their home country tax liability, and in some cases, income may be exempt from tax in the country of source.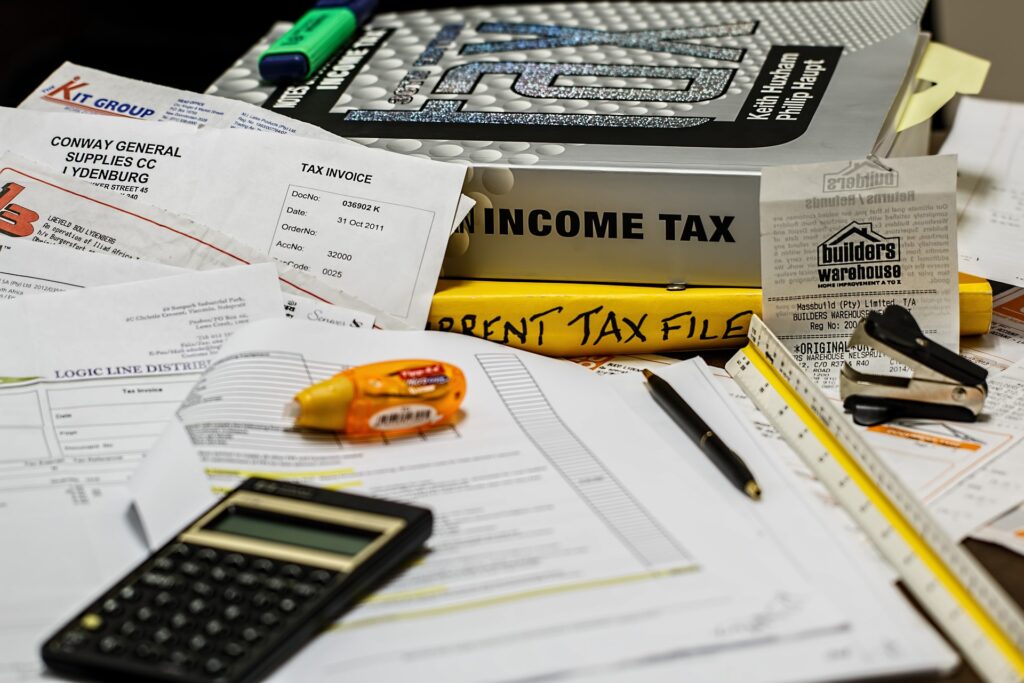 Comparison Portugal Vs. Turkey
Cost of living in Portugal vs Turkey
When comparing the cost of living in Portugal and Turkey using Numbeo data, intriguing insights emerge, particularly concerning consumer prices, including rent. Specifically, in Lisbon, Portugal's capital city, consumer prices are approximately 50% higher than in Ankara, the capital of Turkey.
Lisbon's distinction as the most expensive city in Portugal suggests that relocating to other regions within the country can lead to an even more favorable impact on the cost of living. In comparison to Porto, Ankara is 28% cheaper than Porto.
Furthermore, when compared to neighboring countries such as Spain or France, Portugal upholds its reputation as an exceptionally enticing choice for those seeking a high quality of life at a reasonable cost.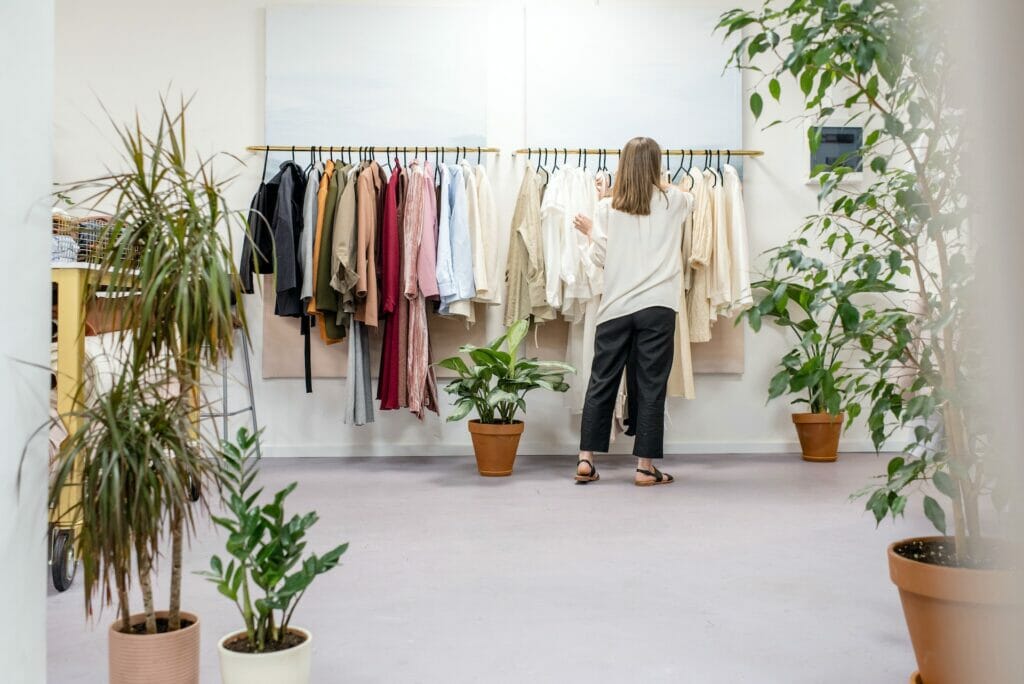 Healthcare system in Portugal for expats
Portugal's healthcare system is celebrated for its commitment to delivering accessible and top-notch medical services. At its core stands the national health service, known as Serviço Nacional de Saúde (SNS), serving as the bedrock of healthcare provision in the nation.
SNS provides a comprehensive spectrum of healthcare services, encompassing regular check-ups and specialized treatments, with a strong emphasis on ensuring that every Portuguese citizen can access medical care when required.
What truly distinguishes Portugal's healthcare system is its inclusiveness. SNS doesn't just cater to Portuguese citizens but also extends its services to residents with valid residence permits and those covered by reciprocal healthcare agreements. This signifies that expatriates and foreign residents in Portugal, who meet the necessary qualifications, can avail themselves of the same standard of care as the local population.
Is Portugal a safe for Turkish?
Portugal's well-earned reputation as one of the world's safest countries remains highly acknowledged. According to the Global Peace Index from 2023, a reputable measure of safety and tranquility, Portugal proudly holds the seventh position. In comparison, Turkey is ranked at #147 on the Global Peace Index.
What sets Portugal apart is its unwavering commitment to upholding social stability and safety for all. A low crime rate, a well-functioning legal system, and effective law enforcement agencies form the cornerstones of this endeavor. The outcome is a welcoming ambiance that celebrates diversity and nurtures a profound sense of security, making it an enticing choice for individuals worldwide.
Can foreigners buy property in Portugal?
Yes, foreigners and Turkish can buy property in Portugal, and there are generally no significant restrictions on property ownership. Whether you are a citizen of a European Union (EU) country or a non-EU country, you can purchase property in Portugal. It's important to note that owning property in Portugal is separate from obtaining residency status, and non-EU nationals do not necessarily need a residency visa to buy a second home in Portugal. 
To buy a property in Portugal, you need to first obtain an NIF number and open a Portuguese bank account.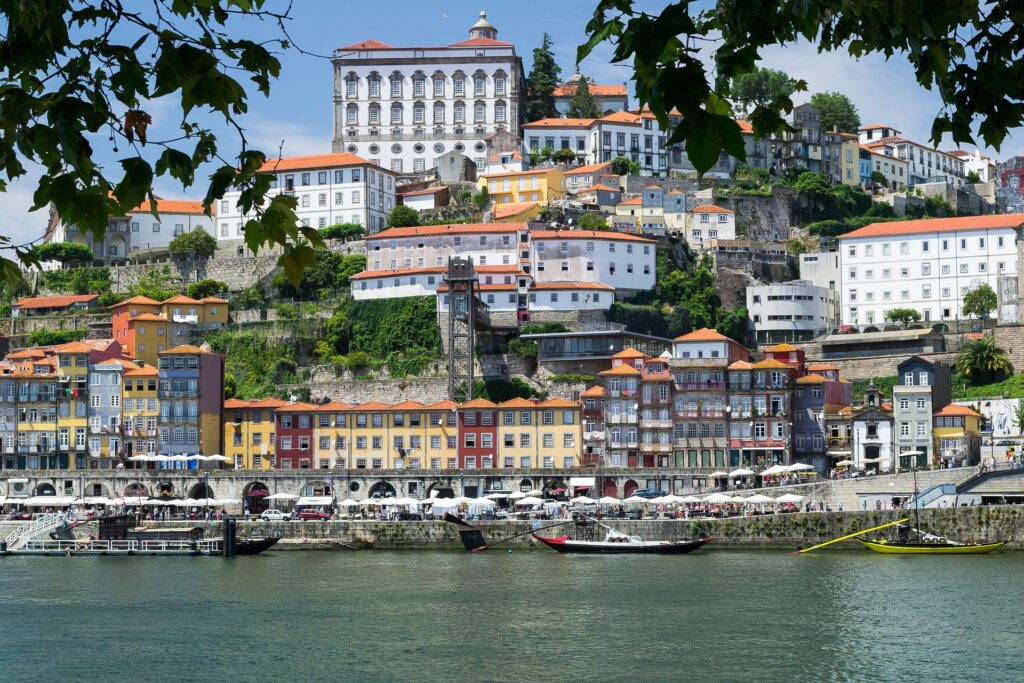 Flights from Turkey to Portugal
Flights from Turkey to Portugal are available from major Turkish cities to several airports in Portugal, with Lisbon and Porto being the primary destinations. Here are some key details:
Departure Cities in Turkey:
Istanbul Airport (IST) in Istanbul
Sabiha Gökçen International Airport (SAW) in Istanbul
Ankara Esenboğa Airport (ESB) in Ankara
Antalya Airport (AYT) in Antalya
Izmir Adnan Menderes Airport (ADB) in Izmir
Arrival Cities in Portugal:
Lisbon Portela Airport (LIS) in Lisbon
Francisco Sá Carneiro Airport (OPO) in Porto
Faro Airport (FAO) in Faro (Algarve region)
Airlines: Several international airlines offer flights between Turkey and Portugal. Popular airlines for this route include Turkish Airlines, TAP Air Portugal, Pegasus Airlines, Lufthansa, and others.
Flight Duration: Direct flights typically take around 4 to 5 hours, while connecting flights may take longer, depending on the location.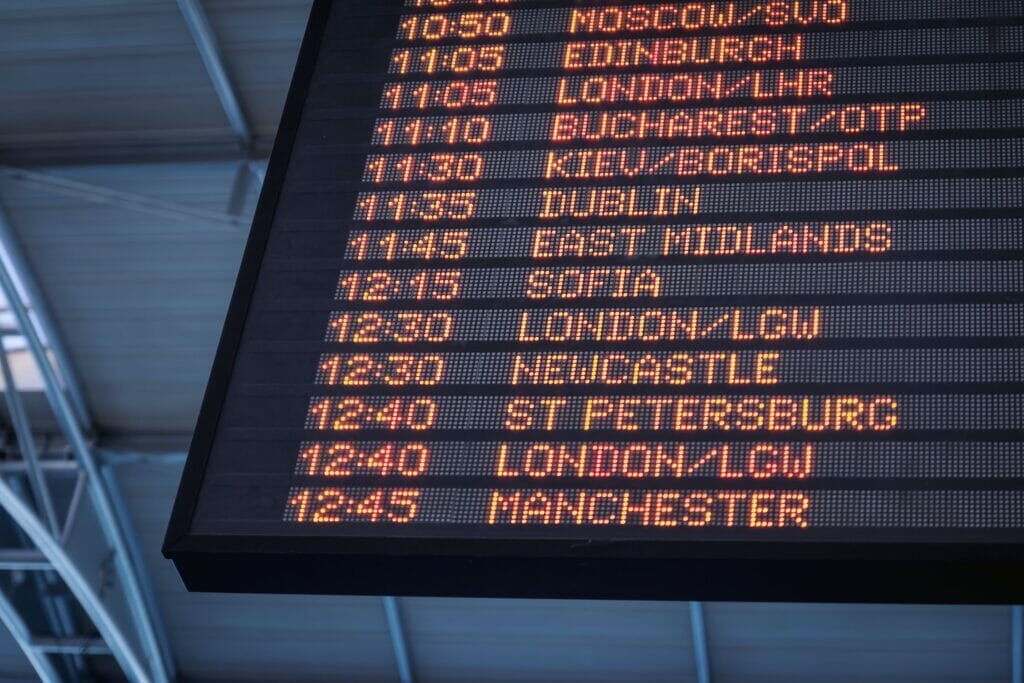 5 Similarities between Portugal and Turkey
Climate: Both Portugal and Turkey feature regions with Mediterranean climates, characterized by hot, dry summers and mild, wet winters. This climate creates an inviting environment for tourism and outdoor activities.
Beautiful Coastlines: Portugal and Turkey are renowned for their picturesque coastlines along the Mediterranean and the Atlantic Ocean. These coastal regions offer stunning beaches, charming coastal towns, and a wealth of seaside attractions.
Seafood: Both countries have a strong culinary tradition, with seafood playing a significant role in their cuisines. Portuguese and Turkish dishes showcase a variety of seafood delicacies, reflecting their coastal lifestyles.
Football: Football is a shared passion in both Portugal and Turkey. The countries have notable football clubs and a thriving football culture, with enthusiastic support from fans. The national teams of Portugal and Turkey also participate in international competitions.
Tourism: Tourism is a major industry in both Portugal and Turkey. Visitors are drawn to these countries by their historical landmarks, natural beauty, and cultural attractions. Both nations offer a diverse range of experiences for tourists, from exploring ancient sites to enjoying the vibrant local culture.
Why work with Portugal Residency Advisors?
Local Expertise
We know Portugal. Due to our extensive local knowledge, we believe that concentrating our services in a single country destination is the best way to give you the most thorough and useful information. 
Holistic Approach
One single channel of communication for the entire process. We provide you with a comprehensive service that covers all aspects of your move, from identifying the ideal residency visa to finding your new home or helping you to settle. 
Transparent Service
We recommend what's best for you based on an extensive process experience that saves time and money to clients. Our pricing is clear and competitive, and we don't sell services that make us more money.
Simple Process
Technology plays a very important role in our company. We minimize our clients' involvement in paperwork. We are customers ourselves and we know how to serve you.
Frequently asked questions about Immigrate from Turkey to Portugal
Can Turkish citizens move to Portugal?
Yes, Turkish citizens can move to Portugal for residency purposes. They can apply for various types of visas, including residence visas, depending on their specific circumstances and purposes of stay.
What are the types of visas available for Turkish?
Turkish citizens can apply for different types of visas, such as a residence visa, work visa, study visa, or family reunification visa, based on their intentions and qualifications.
How can Turkish citizens obtain a residence permit in Portugal?
Turkish citizens can obtain a residence permit in Portugal by applying for a relevant visa, meeting the necessary requirements, and completing the application process through the Portuguese immigration authorities.
What are the requirements for obtaining a Portuguese residence permit as a Turkish citizen?
The requirements may vary depending on the type of residence permit, but typically include proof of sufficient financial means, health insurance, a clean criminal record, and a valid reason for staying in Portugal.
Can Turkish citizens work in Portugal once they obtain a residence permit?
Yes, Turkish citizens can work in Portugal once they obtain a residence permit that allows them to do so. Work permits and visas may be required for specific employment situations.
Is there a language requirement for immigration to Portugal?
No. You don't need to speak Portuguese for applying for a immigration visa to Portugal. However proficiency in Portuguese can be beneficial when dealing with local community. 
How long does it usually take to obtain a residence permit in Portugal?
The processing time for obtaining a residence permit can vary based on the type of permit and specific circumstances. But it may take up to six months, so applicants should plan accordingly
Is healthcare in Portugal accessible for expats??
Portugal has a good healthcare system. If you're a legal resident, you can access healthcare through the National Health Service (SNS) or choose private healthcare.
Can I bring my family to Portugal with me?
Yes, you can typically bring your family members with you to Portugal. Family reunification permits are available for this purpose.
Are there any restrictions on Turkish citizens buying property in Portugal?
Turkish citizens, like other foreign nationals, can generally buy property in Portugal without significant restrictions. You just to obtain a fiscal number and opening a Portuguese bank account.