Portugal has become a popular destination for various reasons, including work opportunities. If you plan to work in Portugal, you may need to apply for a Portuguese D1 Work Visa. This comprehensive guide contains all the information you need to know about obtaining a work visa in Portugal.
Since the Portuguese work permit is tied to your residency status, you typically cannot apply for it until you have secured employment in Portugal.
Who needs a visa for working in Portugal?
If you are an EU/EEA or Swiss citizen residing in a European Union country, you do not require a specific visa to work in Portugal. You have the right to travel, work and reside in Portugal without the need for a visa. 
However, if you plan to stay in Portugal for over three months, you must obtain a Residence Certificate (Certificado de Registo).
Non-EU/EEA/Swiss citizens
Non-EU/EEA or Swiss citizens intending to work in Portugal must apply for a Portugal Work Visa and to be eligible, you must first secure a job in Portugal.
If your job lasts less than six months, your employer must apply for a Portuguese work permit (Autorização de Trabalho) with the Portuguese Labor Authorities. Once the work permit or job contract is approved, non-EU nationals must apply for a Portuguese work visa.
If you plan to work in Portugal for a longer term, then you must apply for a residence permit, which will depend on your type of employment.
Job openings had to be advertised to Portuguese and EU/EFTA citizens for 30 days before they could be filled by non-EU employees, as classified by the Institute for Employment and Vocational Training in Portugal (IEFP). 
After residing in Portugal for five years, individuals can apply for Portuguese citizenship and will not require a work permit, allowing them to have full access to the employment market.
Types of Work Visa Portugal for non-EU nationals
The short-term Portuguese work visa is required for temporary contracts lasting less than six months, available to employees and self-employed workers.
The temporary-stay visa may also be extended up to one year for scientific research, academic teaching, highly qualified professional activities, or training and service provisions by members of the World Trade Organization.
The long-term Portuguese work visa is necessary for non-EU nationals who plan to work in Portugal for more than six months. The work visa is in the form of a long-term Schengen Visa (type D), which allows travel across the 26 Schengen area countries.
Citizens of the USA, Canada, Australia, New Zealand, Japan, and Israel can apply for this visa within 90 days of arriving in Portugal due to bilateral agreements. All other non-EU nationals need to apply in advance of their trip to Portugal.
After securing the visa, applicants must apply for a Portuguese residence permit from within the country.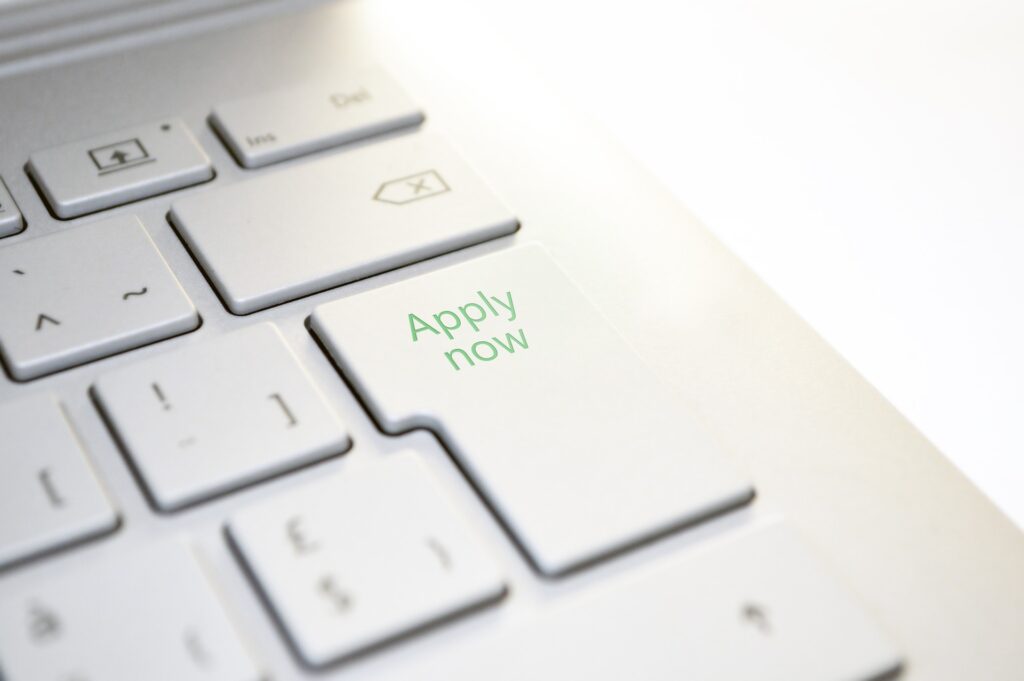 Working Permits in Portugal for non-EU nationals
Working Permit for Employees
For employees in Portugal, the standard residence permit is available, which is valid for one year and can be renewed for up to five years, leading to permanent residence.
Working Permit for High-Skilled Professionals
A separate residence permit is available for highly skilled professionals which is valid for one year and can be renewed for up to five years. Afterward, the holder can apply for permanent residence. Specific conditions and required documents must be met.
The EU Blue Card functions as a work and residence visa for skilled workers who are from non-EU countries. 
To be eligible, applicants must possess a university degree and hold a work contract or job offer from an EU country that is valid for at least one year. Additionally, the applicant's annual gross salary must be at least one and a half times the national average.
Once an individual holds the EU Blue Card, they may apply for a researcher or highly skilled migrant residence permit after residing in Portugal for a minimum of 18 months.
Working Permit for Independent Work
If you apply for a self-employment visa as an independent worker, you will need these additional documents:
Proof of owning a business entity (e.g., a limited liability company, sole trader, etc.), or having a contract for providing services
Declaration by a competent authority that you are qualified to take up employment in your work sector, when applicable
Working Permit for Entrepreneurs
If you opt for a self-employment visa as an entrepreneur, you must fulfill at least one of the following additional requirements:
Evidence of your investments;
Proof of adequate financial resources in Portugal and a commitment to investing in the country.
If you apply for a Start-up Visa, a statement from IAPMEI verifying that your business is incubating will be needed.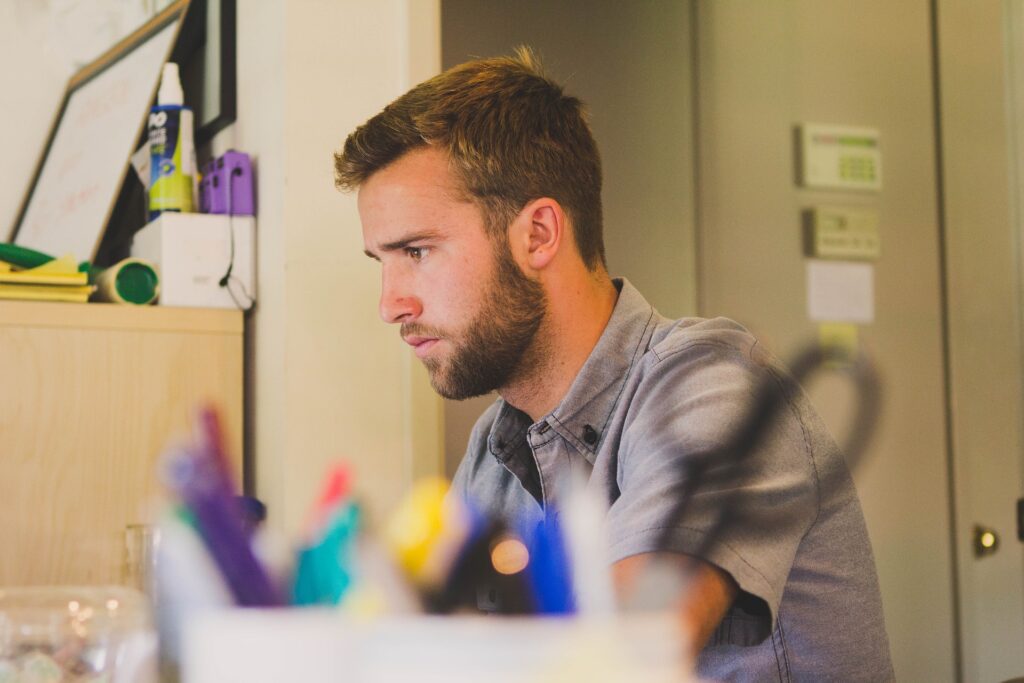 How to apply for a Portuguese Work Visa?
Step 1 - Work Permit request
After accepting a job offer in Portugal, it is essential to obtain a Work Permit. Your employer will need to apply for this permit on your behalf at the Portuguese Labor Authorities of the Portuguese Immigration and Borders Service SEF.
Once the SEF approves your Work Permit, your employer will inform you, and you can proceed with the next steps of the process, such as applying for a visa or residence permit, depending on the length of your employment.
It's essential to note that the Work Permit is valid only for a specific job and employer, and changing jobs requires obtaining a new permit.
Step 2 - Work Visa Portugal submission
Once you've obtained your work permit, you may proceed with your Portuguese Work Visa application. Here are some steps to follow:
Collect all original documents and copies. Remember that all documents submitted must be in either English or Portuguese (if not, they must be translated by a certified translator). Here are the most relevant documents:
Visa Application Form
Your Valid Passport
Two recent passport-size photos
Criminal Record certificate
The work contract with your employer
Proof that the position could not be filled by an EU/EEA/Swiss citizen
Valid travel insurance, including medical coverage
Documentary evidence of having accommodation in Portugal
Proof of sufficient means in Portugal (latest 3 months bank statements)
Declaration with the reasons for requesting Portuguese Residency
Schedule an appointment at your local Embassy/Consulate or VFS Global. During your appointment, submit your documents and attend an in-person interview.
Step 3 - Resident Permit application
Your work visa enables you to enter Portugal and is valid for a duration of only 4 months. Within this time, you must travel to Portugal and initiate the application process for your residence permit.
Your first step is to register for social security in Portugal. This can be done at the Portuguese Social Security Office. 
Additionally, it is recommended that you obtain a Portuguese tax number (NIF) prior to traveling to Portugal. You will need to have a NIF to open a Portuguese bank account.
As a second step you must visit SEF (Serviço de Estrangeiros e Fronteiras) for your biometric data collection, and you will be issued your residency permit.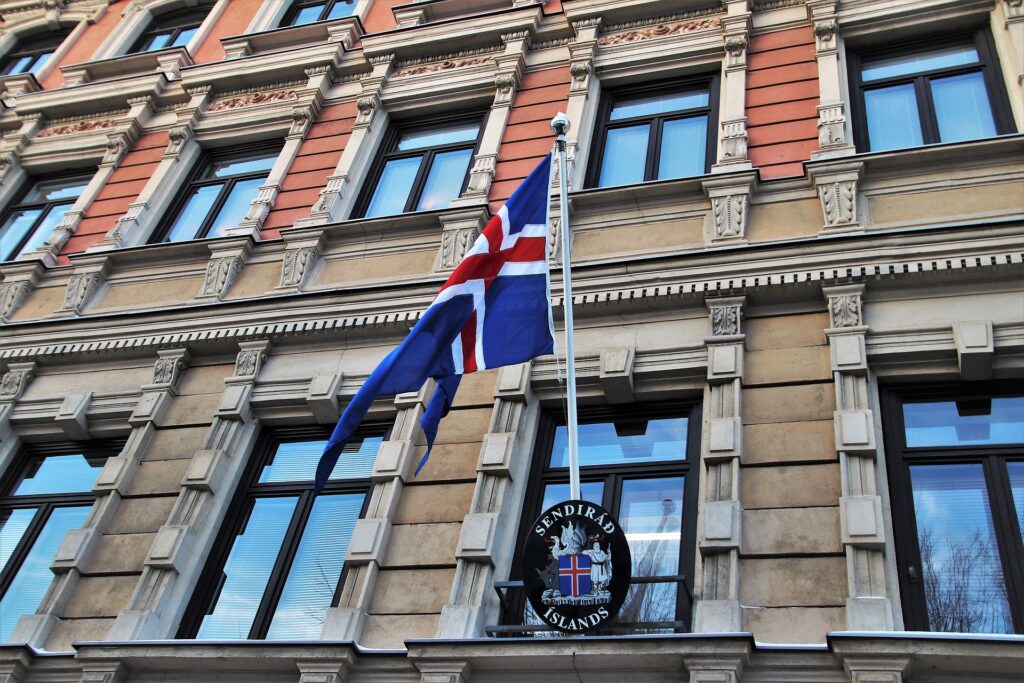 Portugal Work Visa processing time
The amount of time required to process a Portugal work permit application is determined by the individual visa application and is assessed based on its own merits.
In specific cases, if all the information and documents provided in support of the application are accurate and complete, the processing time for the Portugal work permit may be reduced from the general timeframe.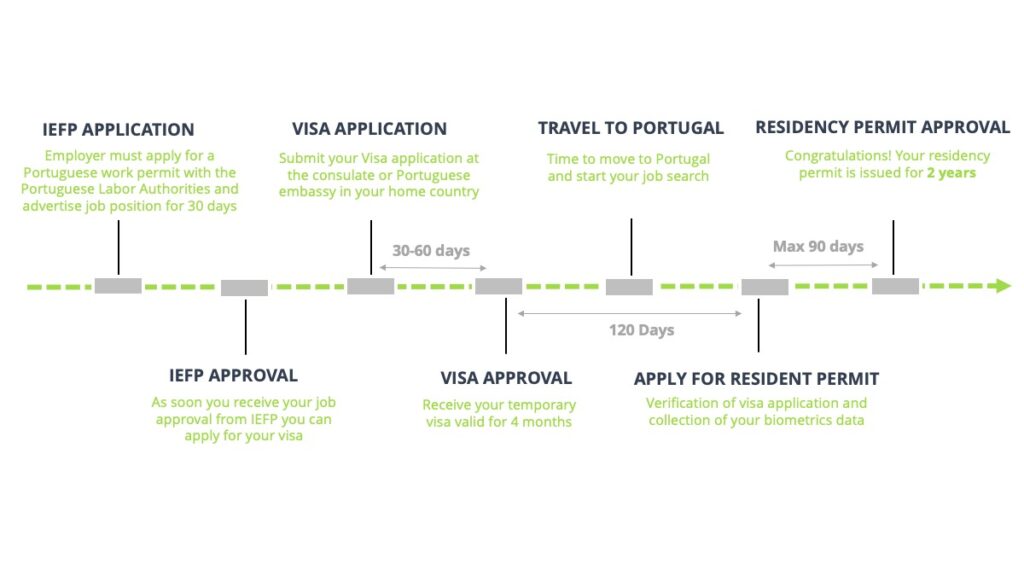 What are the fees for the Portugal work visa?
When submitting an application for a Portugal work visa, you should anticipate incurring several expenses for various purposes.
€80 for your entry visa application at the Consulate in your home country
€170 to submit and receive your resident permit from the SEF in Portugal
Is it worth working in Portugal?
There is no one-size-fits-all answer to this question as the answer depends on individual circumstances and preferences. Portugal is a country that offers a high quality of life and a relatively low cost of living compared to other European countries. It has a stable political environment, a good healthcare system, and a warm climate.
In terms of the job market, Portugal has a growing economy with opportunities in various sectors, including technology, tourism, and renewable energy. However, salaries in Portugal are generally lower than in other European countries, and the unemployment rate can be relatively high, especially for young people.
If you are considering working in Portugal, it's important to research the job market and assess your skills and qualifications. 
Income tax, known as "Imposto sobre o Rendimento das Pessoas Singulares" (IRS), is applicable to individuals' income from various sources, including employment, self-employment, pensions, and investments. 
The income tax system in Portugal operates on a progressive scale with different tax brackets and rates based on income levels. Deductions, allowances, and tax credits are available to reduce the taxable income.
Why choose Portugal Residency Advisors for your Work visa application?
Local Expertise
We know Portugal. Due to our extensive local knowledge, we believe that concentrating our services in a single country destination is the best way to give you the most thorough and useful information. 
Holistic Approach
One single channel of communication for the entire process. We provide you with a comprehensive service that covers all aspects of your move, from identifying the ideal residency visa to finding your new home or helping you to settle. 
Transparent Service
We recommend what's best for you based on an extensive process experience that saves time and money to clients. Our pricing is clear and competitive, and we don't sell services that make us more money.
Simple Process
Technology plays a very important role in our company. We minimize our clients' involvement in paperwork. We are customers ourselves and we know how to serve you.
Frequently asked questions about the D1 Work visa Portugal
Can I work in Portugal without a work visa?
If you are an EU/EEA or Swiss citizen, you can work in Portugal without obtaining a work visa. However, if you plan to stay for more than 3 months, you need to acquire a Residency Certificate.
Non-EU citizens must apply for a specific work visa if they wish to work in Portugal.
How do I obtain a work visa for Portugal?
To obtain a work visa for Portugal, you must first have a job offer from a Portuguese employer. 
Once you have a job offer, you can apply for a work visa at the Portuguese consulate in your home country or country of legal residence.
Who needs a work visa to work in Portugal?
Non-EU nationals who wish to work in Portugal need a work visa.
What documents do I need to apply for a work visa in Portugal?
The exact documents required may vary depending on your individual circumstances, but typically you will need a valid passport, a job offer letter, a criminal record certificate, proof of accommodation in Portugal, and proof of financial means to support yourself during your stay in Portugal.
How long is the validity of a Portugal work visa?
A Portuguese work visa allows you to work in the country for 1-2 years. If you want to continue working in Portugal, you need to renew your permit before it expires.
Can a residency permit be obtained with a work visa in Portugal?
Yes, after residing in the country for five years with a temporary residence permit, you can apply for a permanent residency permit.
Once you have a permanent residency permit, you do not need to apply for a work permit.
What are the requirements for an EU Blue Card?
The typical requirements include being a non-Schengen member state resident, having a work contract or binding job offer, and providing supporting documents for qualifications and experience.
Can Portuguese citizenship be obtained with a work visa?
A Portuguese work visa is essentially a residence permit that permits you to work in Portugal. 
After five years of living in the country, you can apply for permanent residency or Portuguese citizenship.
Is a Portuguese work visa required for Portuguese citizens?
No. Once you become a Portuguese citizen, you do not need to renew or apply for a new work visa.