What is the Portugal Job Seeker Visa?
The job seekers visa for Portugal was introduced in June 2022 to address the country's shortage of skilled workers. This visa permits individuals to enter and remain in Portugal while searching for employment in their area of expertise.
Holders of this visa can obtain a work visa and residence permit, potentially leading to permanent residency in Portugal.
If the visa holder performs well in their job, they may apply for a residence permit to continue working. The job seeker visa is valid for 120 days and can be renewed for an additional 60 days.
It is a single-entry visa, and both skilled and unskilled workers are eligible to apply.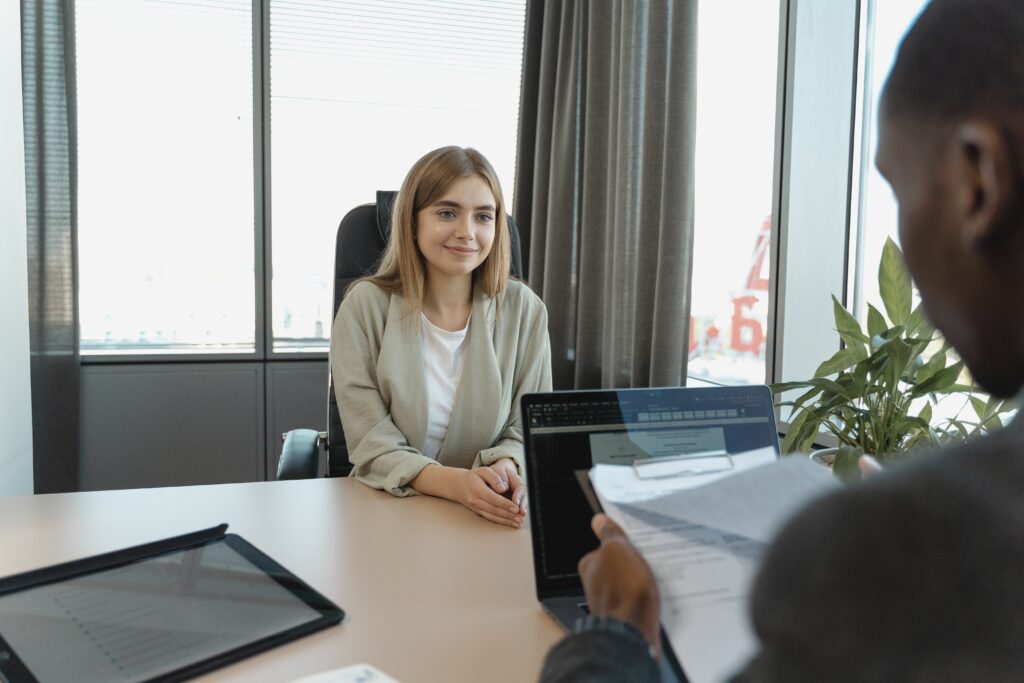 Portugal Job Seeker Visa requirements
Visa application form
A valid passport
Two recent passport-sized photos
Criminal record check by the relevant Immigration and Border Services
Criminal record certificate issued by the relevant authority where the applicant has stayed for the last year.
Valid travel insurance
Return flight ticket
Proof of means of subsistence equivalent to three minimum monthly salaries
Proof of accommodation for the whole minimum stay
SOP (statement of purpose). A declaration with an indication of the conditions for the estimated stay, describing the plan of activities in Portugal, including where the applicant will stay and apply for jobs.
Attested educational/technical/academic qualification documents.
CV/resume
IEFP registration: Declaration of expressions of interest
IELTS is not required for this visa.
Portugal Job Seeker Visa Application Process
IEFP Registration: Submit a Declaration of Expression of Interest
To begin the process, you need to complete an online declaration of interest form that is easily accessible through the following link:
The purpose of the application is to indicate your intention to register with the Institute of Employment and Vocational Training for job-seeking purposes upon entry into Portuguese territory.
The application requires you to enter your personal details as stated in your passport and select the profession in which you possess expertise. Upon approval by the IEFP, you will receive an email confirmation.
It is important to note that this approval is not a visa itself, but rather a pre-requisite for applying for the Portugal Job Seeker Visa. With the IEFP approval, you may proceed with your actual visa application.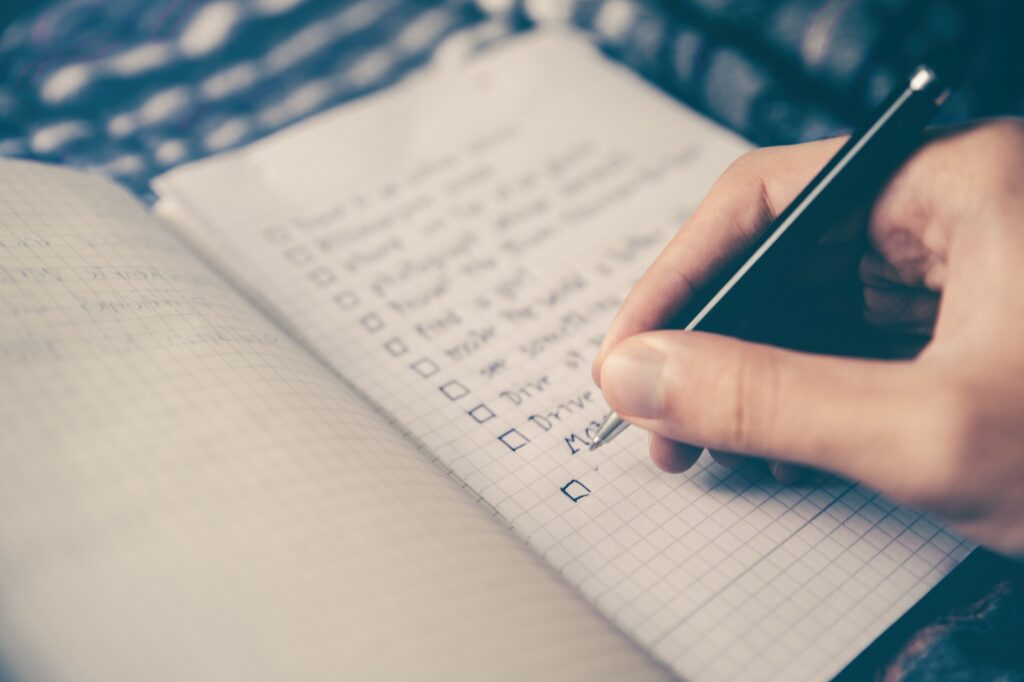 How to apply to Portugal Job seeker visa?
Visit the website of the embassy or visa application center.
Select the visa type as "Job seeker."
Collect all the necessary documents as per the document checklist.
Complete and submit the application.
Find the nearest Portuguese Embassy, Consulate, or VFS Global.
Arrange an appointment once you receive a response
Provide the necessary documents on the appointment date and attend the visa interview, if necessary.
It's essential to keep in mind that this visa is only valid for a period of four to six months, during which time you should ideally find a job.
We highly recommend reading our article on common Mistakes to avoid when moving abroad before making any final decisions.
The appointment for a job seeker visa for Portugal can be made at either the Portuguese Embassy or through VFS Global.
It ultimately depends on your location and convenience. Here are some factors to consider when deciding between the two:
You are located near the embassy and you may find it more convenient to schedule an appointment directly with the embassy.
The embassy may offer more personalized service and support throughout the visa application process.
Processing times may be faster, as the embassy does not need to coordinate with a third-party provider.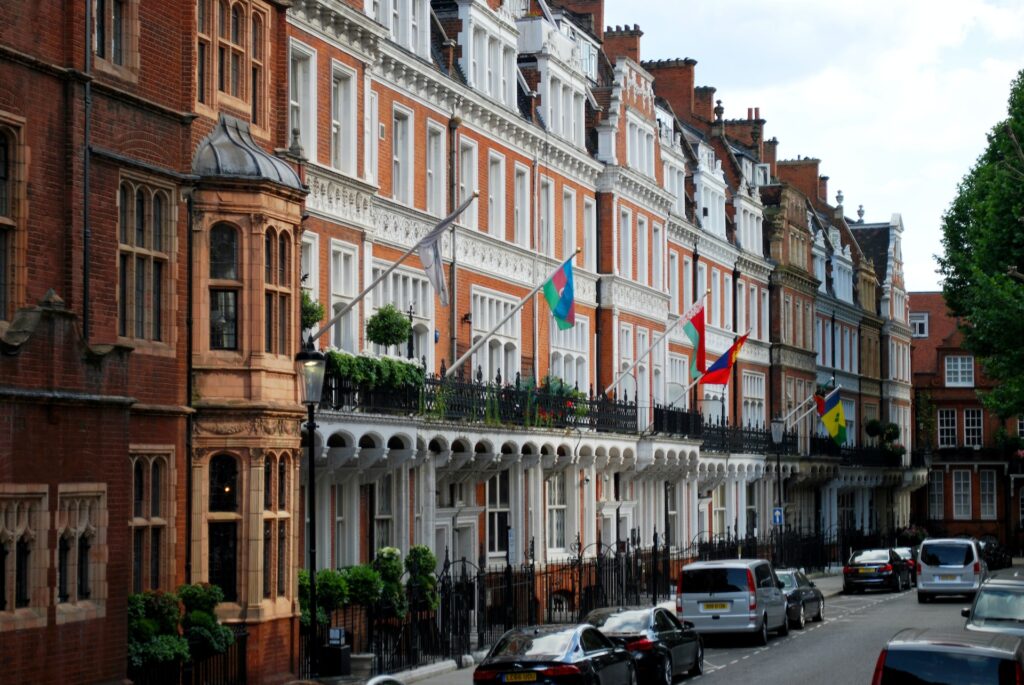 VFS may be a more convenient option for you if you are not located near the embassy, as there are multiple VFS locations across the countries.
VFS may offer you additional services, such as assistance with document preparation and verification.
The appointment scheduling process may be more streamlined and efficient, as VFS is specifically dedicated to visa processing.
Ultimately, both options can be reliable and efficient in securing a job seeker visa for Portugal. It is recommended that you review the requirements and procedures for each option before making a decision.
Timeline for the Job Seeker Visa Portugal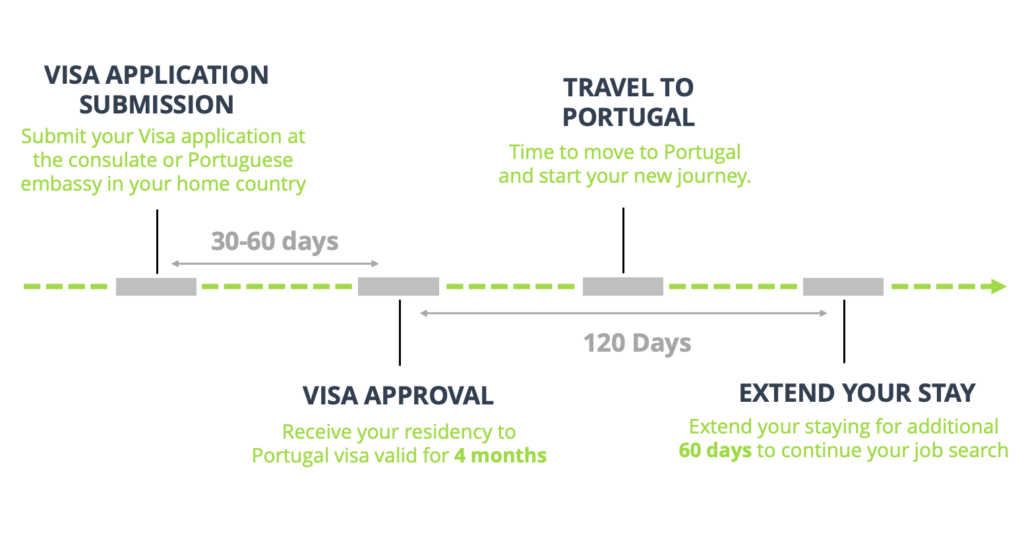 Cost of the Job Seeker Visa Portugal
The cost of the Job Seeker visa is relatively low and varies depending on the consulate where you apply, but for a single applicant you may expect to pay:
€80 for your entry visa application at the Consulate in your home country
€170 to submit and receive your resident permit from the SEF in Portugal
You should have to consider some additional costs regarding flight tickets, travel insurance, relocation services, accommodation, paperwork including translations or documents apostille.
Advantages of the Portugal Job Seeker Visa
No job offer required: You can enter Portugal without having a job offer in hand
Application from home country: You can apply for the Portugal Job Seeker Visa from the comfort of your home country.
Explore the Portuguese job market: This visa allows you to freely explore the job opportunities available in Portugal.
Affordable visa cost: The cost of obtaining the visa is relatively low.
Drawbacks of the Portuguese Job Seeker Visa
Time limitation: If you are unable to find a job within 120 days, you are required to leave Portugal.
Return ticket requirement: To demonstrate your intention to return if you cannot secure a job, you must book a return ticket.
Visa cost: There is a cost associated with obtaining the Portuguese Job Seeker Visa.
Additional expenses: Apart from the visa fee, you will need to cover other expenses related to your stay in Portugal.
Let's create your plan for moving to portugal
Where can foreigners find jobs in Portugal?
There are many online job portals specific to Portugal where you can search for jobs by location, industry, or job title Here are some useful sites: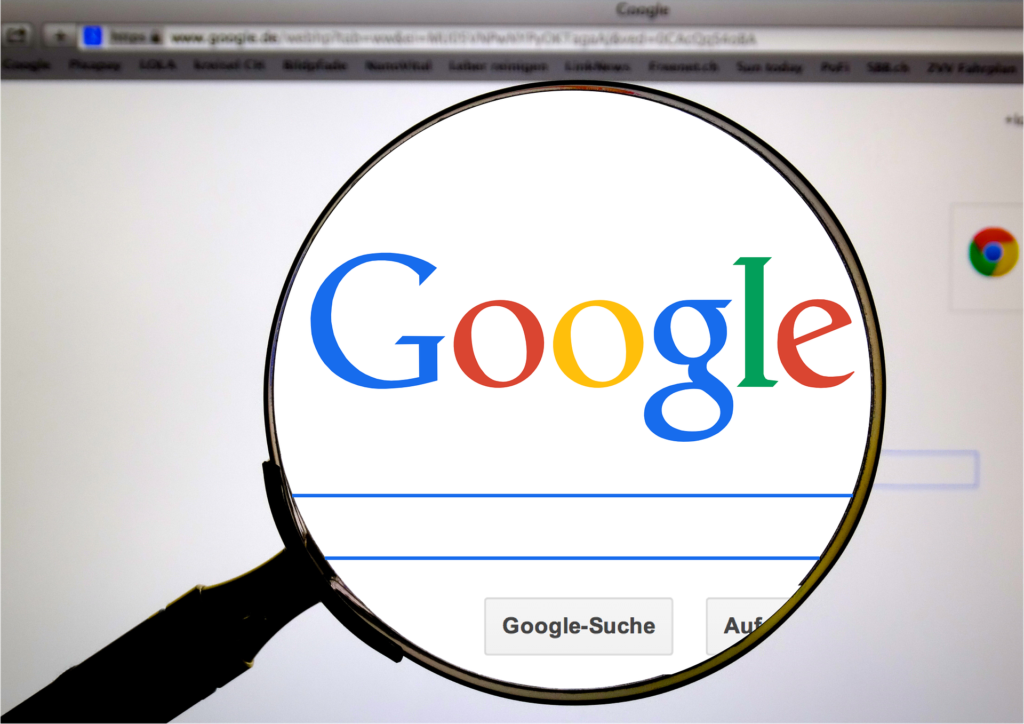 Many Portuguese companies post job openings on their own websites. You can visit the websites of companies you are interested in and check their career sections.

There are many recruitment agencies that help match job seekers with potential employers. Some popular ones in Portugal include:
Building a network of contacts in your industry can help you learn about job openings and potential opportunities. Attend industry events, join professional organizations, and connect with people on LinkedIn.
It's important to note that having a basic understanding of Portuguese language can be very helpful when searching for jobs in Portugal, especially outside of the major international companies.
Call Center Jobs for Foreigners in Portugal
Call center jobs can be a great option for foreigners in Portugal, as many companies are looking for English-speaking representatives to serve international customers. Some of the biggest call center employers in Portugal include:
Cost of the Job Seeker Visa
The cost of Portugal D7 visa is relatively low and varies depending on the consulate where you apply, but for a single applicant you may expect to pay:
€80 for your entry visa application at the Consulate in your home country
€170 to submit and receive your resident permit from the SEF in Portugal
Why choose Portugal Residency Advisors for your relocation to Portugal?
Local Expertise
We know Portugal. Due to our extensive local knowledge, we believe that concentrating our services in a single country destination is the best way to give you the most thorough and useful information. 
Holistic Approach
One single channel of communication for the entire process. We provide you with a comprehensive service that covers all aspects of your move, from identifying the ideal residency visa to finding your new home or helping you to settle. 
Transparent Service
We recommend what's best for you based on an extensive process experience that saves time and money to clients. Our pricing is clear and competitive, and we don't sell services that make us more money. 
Simple Process
Technology plays a very important role in our company. We minimize our clients' involvement in paperwork. We are customers ourselves and we know how to serve you.
Frequently asked questions about the Job Seeker visa Portugal
Do I need Job offer for Job seeker visa?
You do not need a job offer to apply for a job seeker visa in Portugal.
What happen if I cannot find a job with job seeker visa?
If you cannot find a job with the job seeker visa, you can extend it for an additional 60 days, but your total stay cannot exceed 180 days.
After that, you must leave the country and can reapply for the job seeker visa after one year. Alternatively, some individuals may choose to register with SEF to extend their stay in Portugal.
Do I need IELTS for applying for Job Seeker visa?
While IELTS is not a mandatory requirement for the Portugal Job Seeker visa, having a valid IELTS score can be beneficial for your application.
Can I change job seeker visa into work visa?
Yes, if you are successful in finding employment, you can change your job seeker visa into a work visa and obtain a residence permit in Portugal.
What are the main advantages of living in Portugal?
Some of the main advantages of living in Portugal include its mild climate, rich history and culture, affordable cost of living, high quality of life and excellent healthcare.
Can I easily get a job in Portugal as a foreigner?
Getting a job in Portugal as a foreigner can be challenging, but it's not impossible. The job market in Portugal is competitive, and many jobs don't require fluency in Portuguese.