Portugal, with its sun-kissed beaches, inviting waters, and a coastline that seems to stretch endlessly, is a haven for water sports enthusiasts. Whether you're a thrill-seeker or prefer the serenity of the sea, Portugal's aquatic playground offers a diverse range of activities to suit every taste.
10 Water Sports you can Practice in Portugal
Portugal, with its extensive coastline along the Atlantic Ocean and Mediterranean Sea, boasts a myriad of captivating destinations for sailors. From historic ports to secluded coves, this country offers a sailor's dream come true. One of the premier sailing hubs is the Algarve region, with its mild climate, calm waters, and picturesque marinas like Vilamoura and Lagos. 
Here, you can embark on leisurely day sails or set off on extended journeys along the stunning coastline.
Further north, the capital city of Lisbon offers an urban twist to sailing with marinas such as Doca de Belém and Doca de Santo Amaro providing easy access to the city's historic sites and vibrant culture. Sailing along the Tagus River with Lisbon's iconic landmarks as your backdrop is an experience unlike any other.
For those seeking a more remote and pristine sailing experience, the Azores archipelago, particularly Horta on Faial Island and Ponta Delgada on São Miguel, offers unspoiled natural beauty, volcanic landscapes, and rich marine life. It's a paradise for adventurous sailors.
In the north of Portugal, Porto and in the Madeira archipelago you can also find modern marinas.
You can read our article about the Best Yacht Marinas in Portugal.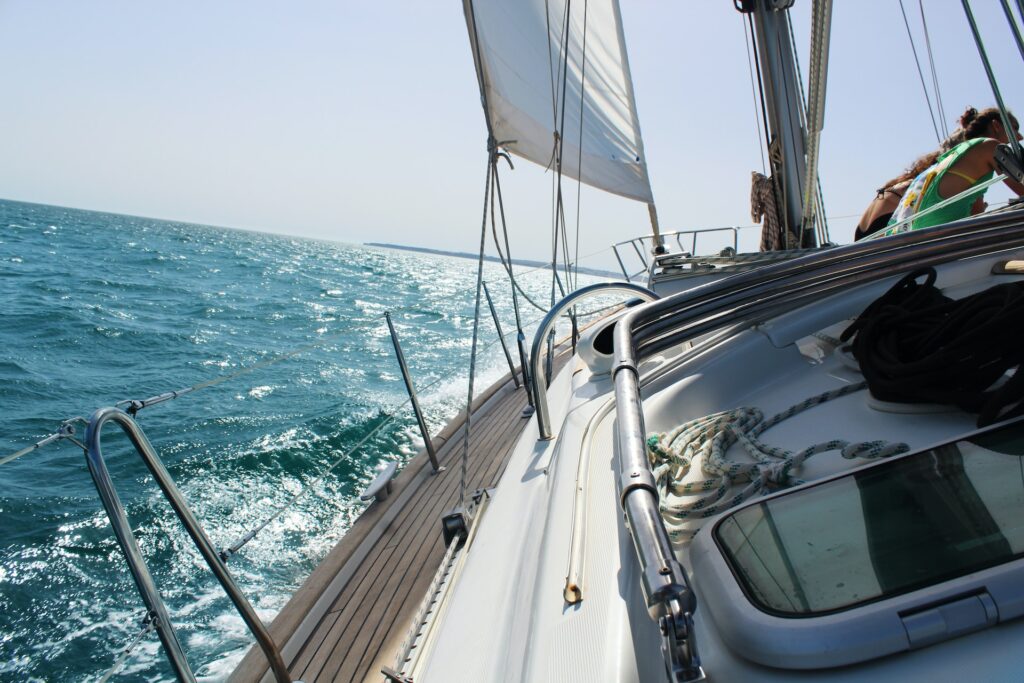 If you're seeking the thrill of monstrous waves, look no further than Nazaré. This small fishing village is famous for its jaw-dropping, record-breaking waves, thanks to the underwater Nazaré Canyon. It's a playground for big wave surfers, and watching the pros tackle these giants is a spectacle in itself.
For a more relaxed vibe, head to Ericeira. This World Surfing Reserve offers a variety of breaks, making it a perfect spot for surfers of all levels. The town's charming atmosphere and vibrant surf culture are an added bonus.
Peniche is another gem on Portugal's surf scene. Its numerous breaks, including the world-famous Supertubos, ensure there's always a wave to ride. Plus, the local seafood is a post-surfing treat you won't want to miss.
In the south, the Algarve region has several renowned surf spots. Sagres offers consistent waves and a dramatic coastline, while Lagos provides a fantastic mix of waves and a vibrant nightlife scene.
If you're just starting, the gentle waves of Carcavelos Beach near Lisbon are perfect for beginners. The nearby capital city's accessibility and lively atmosphere add to its appeal as a surf destination.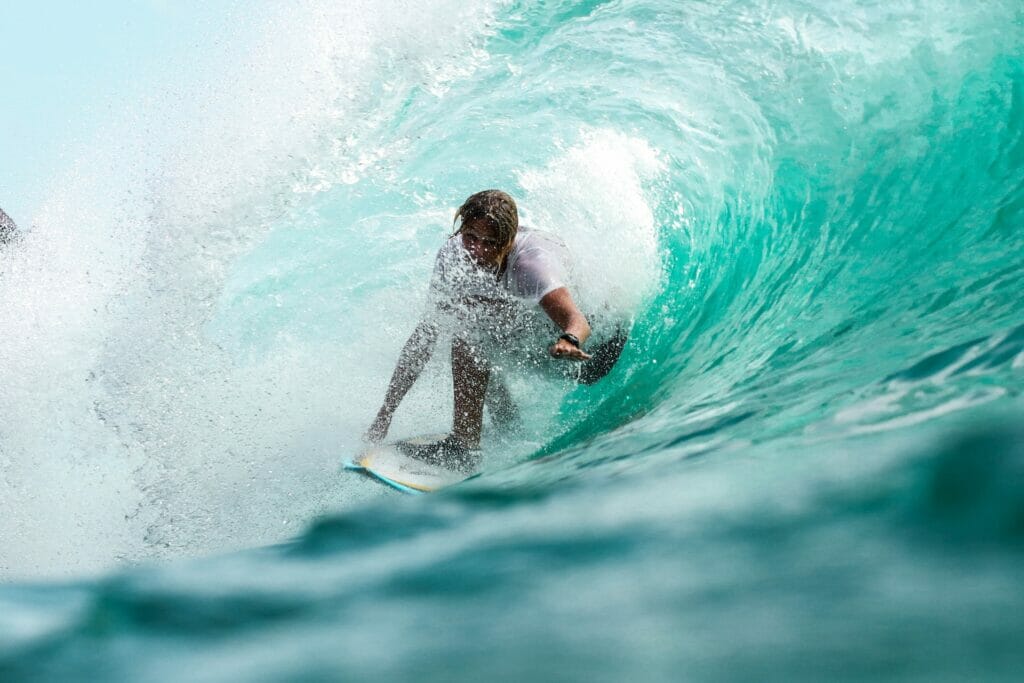 Windsurfing, a thrilling blend of surfing and sailing, finds its natural home along this picturesque coast. From the balmy shores of the Algarve to the challenging waves of the Atlantic, Portugal offers an array of windsurfing experiences catering to both beginners and seasoned riders.
Mastering the Art of Windsurfing
Windsurfing involves a dynamic dance with the elements, where riders stand on a board and harness the power of the wind through a sail. Before you can gracefully ride the waves and execute impressive maneuvers, you must master the basics of balance, sail control, and wind understanding.
Aspiring windsurfers will find a host of experienced instructors and rental shops along Portugal's shores, making it an accessible sport for newcomers. Safety remains a priority, and lessons ensure that beginners not only have a fantastic time but also grasp the essentials of handling the equipment and adapting to changing wind conditions.
The Windy Allure of Portugal
What sets Portugal apart as a windsurfing paradise is its diverse geography and wind conditions. Whether you're seeking thrilling waves and challenging winds or a more serene and forgiving environment to learn, Portugal has you covered.
Guincho Beach, Cascais: Renowned for its strong and consistent winds, Guincho Beach near Cascais is a windsurfer's paradise. The reliable "Nortada" wind from the north creates perfect conditions for blasting across the waves or mastering new tricks.
Lagoa de Óbidos: This large lagoon along Portugal's Silver Coast offers ideal learning conditions for windsurfing beginners. The calm, shallow waters and consistent winds make it a great spot for those looking to build their skills.
Praia de Alvor, Algarve: Alvor's expansive beach offers a mix of flat water and gentle waves, making it suitable for both beginners and intermediates. The picturesque scenery and relaxed atmosphere enhance the overall windsurfing experience.
Santa Cruz Beach, Torres Vedras: Located north of Lisbon, Santa Cruz Beach benefits from the "Nortada" wind, ensuring reliable conditions for windsurfing. The rolling waves and spacious beach create an inviting environment for riders.
Viana do Castelo: In the northern part of Portugal, Viana do Castelo is known for its strong winds and stunning coastline. This spot attracts experienced windsurfers looking for challenging conditions.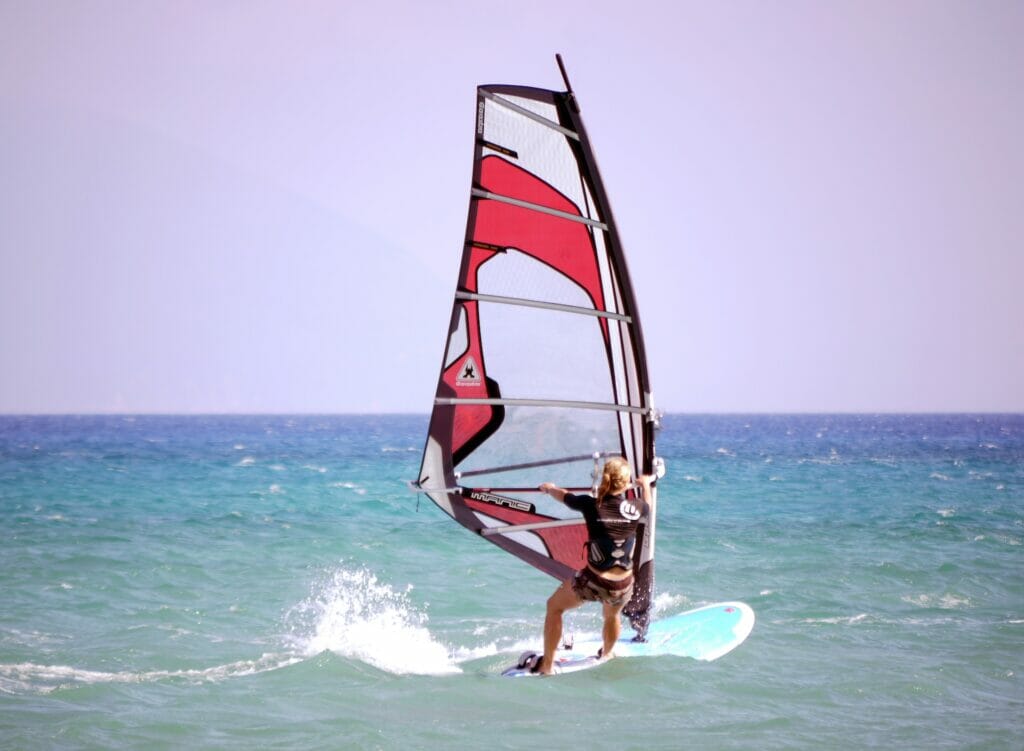 With its diverse marine life, underwater caves, and shipwrecks, Portugal offers a range of scuba diving experiences that cater to all levels of divers.
Popular Scuba Diving Regions:
The Azores: This archipelago in the mid-Atlantic is a paradise for divers. The Azores offer everything from deep-sea dives with pelagic species like sharks and manta rays to volcanic crater dives in crystal-clear waters.

Madeira: Known for its impressive underwater volcanic formations and abundant marine life, Madeira offers a range of dive sites for divers of all levels.

The Algarve: The southern coast of Portugal, particularly around Lagos and Albufeira, provides opportunities for reef diving, cave diving, and encounters with diverse marine species.

Lisbon Region: Sesimbra and the Arrábida Natural Park are popular diving destinations, with clear waters and a rich underwater environment.
Best Scuba Diving Centers in Portugal
Dive Time, Lagos (Algarve): Situated in Lagos, Dive Time is a well-established dive center offering a wide range of dive courses and guided dives. 
Azul Diving Center Madeira (Madeira Island): Located on Madeira Island, this center provides access to some of the most spectacular dive sites in the Atlantic Ocean.
Indigo Divers (Albufeira, Algarve): Albufeira is known for its underwater beauty, and Indigo Divers offers a wide range of diving opportunities, from beginner courses to advanced guided dives.
Explora Madeira Diving Center (Madeira Island): This center is located in the capital city of Funchal and offers access to the unique underwater landscapes of Madeira. They provide training, guided dives, and snorkeling trips.
Subnauta (Cascais, Lisbon Region): Subnauta is a PADI 5-Star Dive Resort based in Cascais, near Lisbon. They offer diverse dive experiences, including wreck dives and underwater photography courses.
Anthia Diving Center (Terceira Island, Azores): Located on Terceira Island in the Azores, Anthia Diving Center allows divers to explore the stunning underwater environments of the Azores archipelago.
Easydivers (Sesimbra, Lisbon Region): Easydivers offers diving opportunities in the Arrábida Natural Park and the surrounding areas. They provide training, guided dives, and snorkeling experiences.
Mero Diving Center (Porto Santo Island, Madeira): Mero Diving Center on Porto Santo Island provides divers with the chance to explore the underwater wonders of this Madeiran island, known for its clear waters and marine life.
Haliotis (Sesimbra, Lisbon Region): Haliotis specializes in diving trips to the Arrábida Marine Park, celebrated for its clear waters and diverse marine ecosystems. They offer courses and excursions for divers of all levels.
Madeira Divepoint (Madeira Island): Based in Caniçal, this dive center offers various dive experiences, from shallow coastal dives to deeper explorations.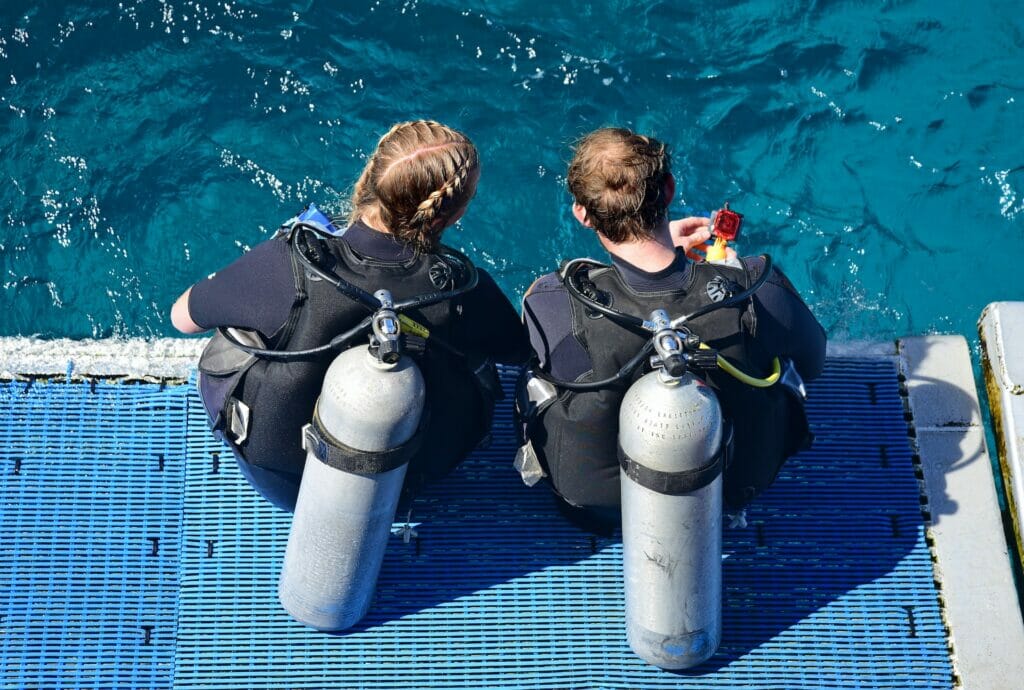 Portugal offers a range of exciting locations to enjoy this thrilling water sport.
Guincho Beach, Cascais: Located just outside Lisbon, Guincho Beach is famous for its strong winds and epic waves, making it a top choice for kitesurfers. The consistent wind patterns create ideal conditions for both beginners and advanced riders. The backdrop of the Sintra-Cascais Natural Park adds to the beauty of this spot.
Lagoa de Óbidos: This lagoon on Portugal's Silver Coast offers flat water conditions, making it perfect for beginners and freestylers. The shallow waters and steady winds provide a safe and enjoyable kitesurfing experience.
Peniche: Known as the "Wave Capital of Portugal," Peniche offers a mix of conditions suitable for all levels of kitesurfers. The Peniche Peninsula is surrounded by beaches, and the waves vary from small to big, making it a versatile spot for riders seeking variety.
Foz do Arelho: Located near the Óbidos Lagoon, Foz do Arelho offers a unique combination of flat water and wave spots. The shallow lagoon provides a safe environment for beginners, while experienced kitesurfers can head to the nearby ocean for more challenging conditions.
Viana do Castelo: In the northern part of Portugal, Viana do Castelo offers picturesque kitesurfing locations with stunning views of the surrounding landscape. The consistent winds here make it a favorite among local and international kitesurfers.
Portugal offers a rich variety of fishing experiences, thanks to its extensive coastline, abundant rivers, and diverse aquatic ecosystems.
What Type of Fishing Is Popular in Portugal?
Shore Fishing: Fish from the coastline or piers, targeting species like sea bass, mackerel, and various types of bream. The rocky shores of the Algarve and the Lisbon coast are excellent locations for shore fishing.
Boat Fishing: Charter boats are available for various types of fishing, from trolling for pelagic species to bottom fishing for reef fish. The Algarve is a hotspot for boat fishing.
Freshwater Fishing: Portugal's rivers, including the Douro and Mondego, offer opportunities for angling species like trout, barbel, and carp.
Estuary Fishing: Estuaries like the Ria Formosa in the Algarve are rich fishing grounds. Anglers target species like sea bass, mullet, and flounder in these brackish waters.
Big Game Fishing: The deep waters off Portugal's coast are renowned for big game fishing. Anglers can pursue trophy fish like bluefin tuna, white marlin
Where to Go Fishing in Portugal?
The Azores: These remote Atlantic islands offer some of the best big game fishing in the world. The deep waters surrounding the Azores are home to a wide variety of species, including marlin, tuna, swordfish, and shark. São Miguel, Terceira, and Faial are particularly well-known for sportfishing.
Algarve: The Algarve region in southern Portugal is famous for its diverse fishing opportunities. Lagos, Albufeira, and Vilamoura are popular coastal towns where you can book fishing charters for deep-sea adventures. Expect to catch species like amberjack, dorado, and grouper.
Ria Formosa Natural Park: This stunning coastal lagoon system in the Algarve is an ideal spot for both amateur and experienced anglers. It's particularly known for its great variety of fish, including sea bass, snook, and bream.
Douro River: The Douro River, which winds through northern Portugal, is famous for its trout and salmon fishing. The charming town of Barca d'Alva is an excellent base for river fishing excursions.
Tejo River: Near the capital city of Lisbon, the Tejo River offers opportunities for freshwater fishing. Carp, barbel, and other species are commonly found here.
Sesimbra: This coastal town near Lisbon is known for its proximity to deep-sea fishing grounds. Sesimbra offers a great chance to catch big game species like swordfish and bluefin tuna.
Peniche: In addition to being a famous surf spot, Peniche is also a prime location for shore fishing. The rocky coastline here is rich in species like sea bass and mackerel.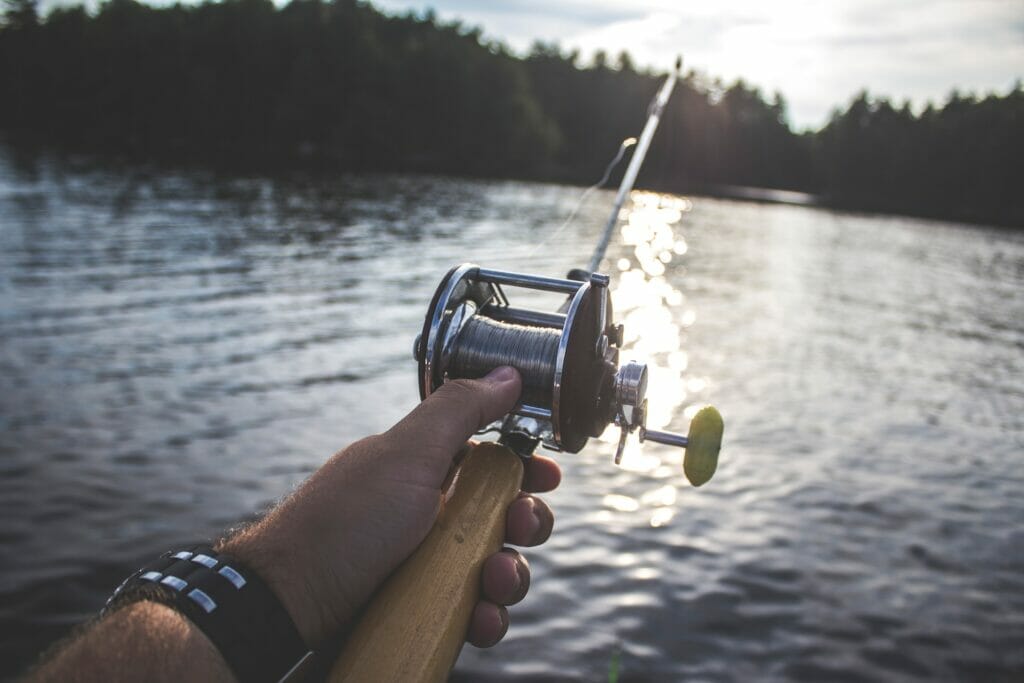 Stand-up paddleboarding (SUP) is rapidly gaining popularity in Portugal, and it's no mystery why. This captivating water sport pairs perfectly with Portugal's diverse aquatic landscapes, offering enthusiasts a chance to glide on serene lagoons, explore rugged coastlines, and meander down picturesque rivers. 
SUP, short for stand-up paddleboarding, is a versatile water sport that involves standing on a large, stable board and using a long paddle to propel yourself through the water. While it may seem straightforward, SUP engages your entire body, promoting balance, core strength, and a deeper connection with nature.
Before diving into Portugal's SUP scene, it's essential to have the right gear. Most coastal regions and tourist hotspots offer equipment rental services that provide top-notch paddleboards, paddles, and personal flotation devices (PFDs). 
Few tips for Stand-up Paddle practicing:
Balance is Key: Stand with your feet shoulder-width apart and maintain a slight bend in your knees. This will help you maintain balance while paddling.
Paddle Properly: Hold the paddle with one hand on top of the grip and the other on the shaft. Use your core and shoulders to paddle, not just your arms.
Safety First: Always wear a leash to keep your board close, and don't forget your PFD, especially when paddling in more challenging conditions.
Best beaches to embark on your paddling adventure:
Lagos, Algarve: This gem along the Algarve coast boasts a rugged shoreline filled with sea caves, hidden beaches, and crystal-clear waters. Paddle around the iconic Ponta da Piedade or explore secluded coves.
Ria Formosa Natural Park, Algarve: Discover the serenity of this protected lagoon system, where you'll paddle amid breathtaking natural beauty and a rich diversity of bird species.
Cascais, Lisbon Region: Just a stone's throw from Lisbon, Cascais offers versatile SUP conditions. Glide across the calm bay or venture into the Atlantic Ocean for a more thrilling experience.
Madeira Island: Madeira's dramatic cliffs and transparent waters create a unique SUP adventure. Paddle along the cliffs and keep an eye out for marine life beneath you.
Sesimbra, Setúbal Region: Renowned for its clear waters and underwater wonders, Sesimbra provides an excellent opportunity for underwater exploration from your SUP board.
Obidos Lagoon, Silver Coast: This shallow lagoon is perfect for beginners and families. Paddle through the calm waters surrounded by pine forests and sand dunes.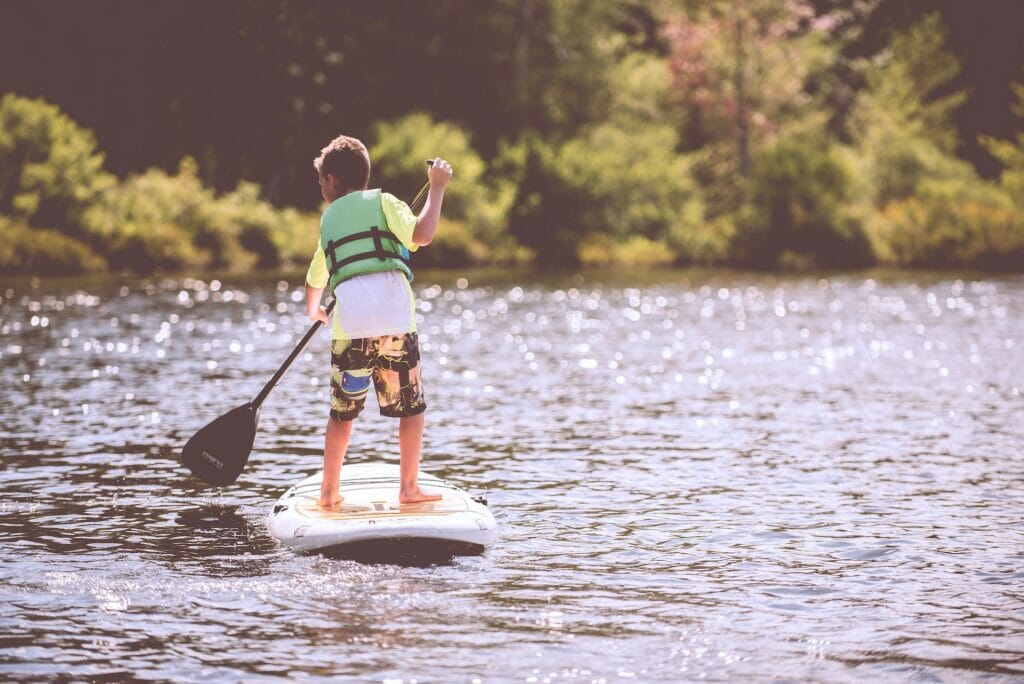 Portugal's extensive coastline and clear, azure waters make it a captivating destination for snorkeling enthusiasts. From the rugged cliffs of the Algarve to the tranquil bays of Madeira, Portugal offers a diverse range of snorkeling experiences suitable for all levels of expertise. Whether you're an experienced snorkeler or a novice ready to take your first plunge, Portugal's underwater world beckons with its vibrant marine life and breathtaking seascapes.
Algarve Coast: The Algarve region is a snorkeling paradise, with its crystal-clear waters, hidden caves, and vibrant marine life. Lagos, Albufeira, and Portimão are popular starting points for snorkeling adventures along this stunning coastline.
Azores: The Azores archipelago in the middle of the Atlantic Ocean offers unique snorkeling experiences. São Miguel and Terceira islands are known for their underwater volcanic formations and opportunities to swim with dolphins.
Madeira: Madeira's warm waters and diverse marine life make it an excellent destination for snorkeling. Ponta de São Lourenço and Garajau are notable snorkeling locations.
Berlengas Islands: Just off the coast of Peniche, the Berlengas Islands provide crystal-clear waters and an abundance of marine species to discover.
Sesimbra: Located near Lisbon, Sesimbra offers snorkelers a chance to explore underwater cliffs, caves, and a thriving marine ecosystem.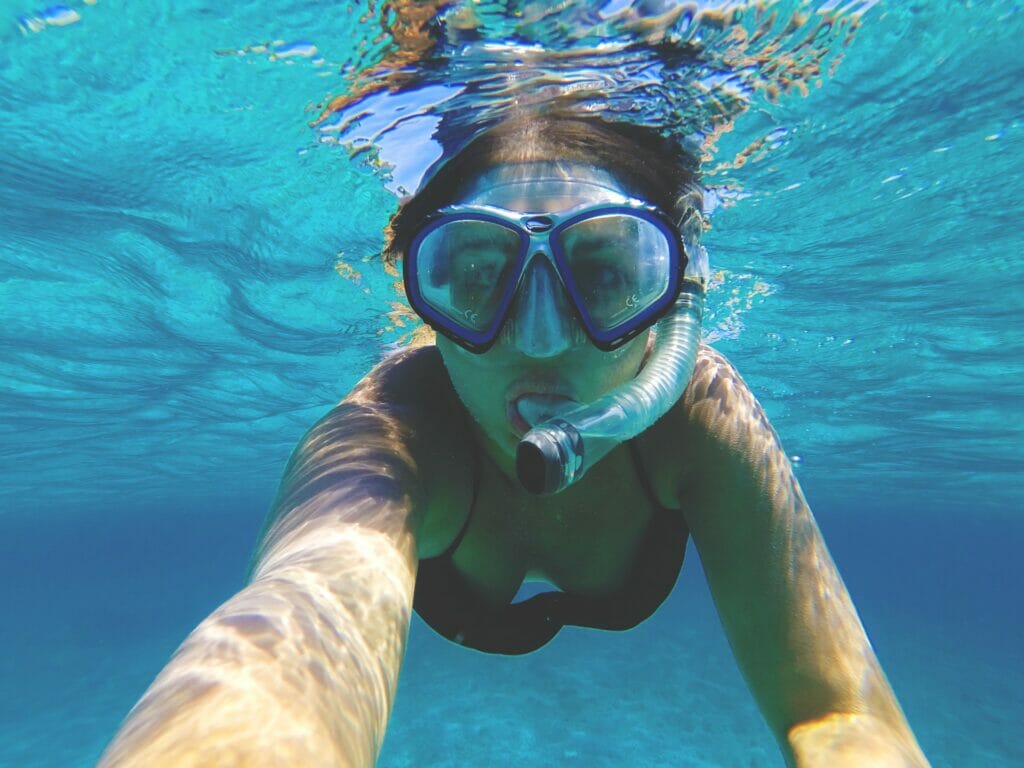 One of the fantastic aspects of jet skiing in Portugal is the accessibility. You can rent a jet ski at nearly every beach along the coastline. Rental durations typically range from 20 minutes to 1 hour, allowing you to choose an experience that suits your preferences and budget.
Prices for jet ski rentals can vary depending on the location, duration, and time of year. As of my last knowledge update in September 2021, here's a rough price range you might expect:
20 minutes: €40 to €60
30 minutes: €60 to €90
1 hour: €100 to €150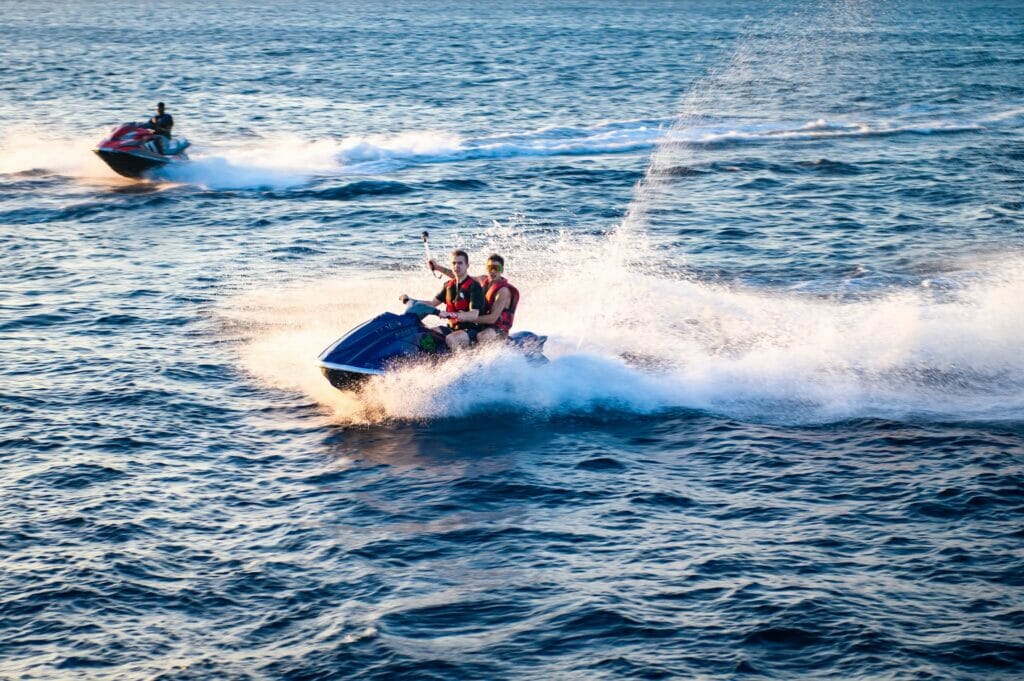 Wakeboarding in Portugal is an exhilarating water sport that has gained popularity along its scenic coastline. Whether you prefer the natural beauty of beach wakeboarding or the controlled environment of cable parks, Portugal offers options for wakeboarders of all levels. In this guide, we'll explore both beach wakeboarding and cable parks, including the associated prices.
Beaches Wakeboarding
Portugal's extensive coastline provides numerous options for beach wakeboarding. Lagos, Albufeira, Cascais, and Figueira da Foz are just a few of the many locations where you can indulge in this thrilling sport.
For Single Wakeboarding Session (including equipment rental) the prices typically range from €40 to €70 per hour. In case of Wakeboarding Lessons (including equipment rental) you may expect to pay between €50 to €100 for a one-hour lesson.
Cable Parks Wakeboarding
Cable parks are a fantastic option for beginners to learn and practice their skills or for experienced riders to hone their tricks and jumps. Here are some notable cable parks in Portugal:
Peniche Wake Park: Located in Peniche on the Silver Coast
WakeSalinas Cable Park: Situated in the picturesque town of Aveiro
Lagoon Wake Park: Found in Óbidos
Praia de Ribeira d'Ilhas Wakeboard Park: Located near Ericeira
Rio Fun Cable Park: Nestled in the scenic Rio Fun valley in northern Portugal
Alqueva Cable Park: Situated near the Alqueva Dam in Alentejo
Praia do Aterro Wake Park: Located in Porto
For one-hour pass the prices generally range from €20 to €30 per hour. For a full day of wakeboarding you may expect to pay around €40 to €60. If you need equipment, rentals usually cost an additional €10 to €20.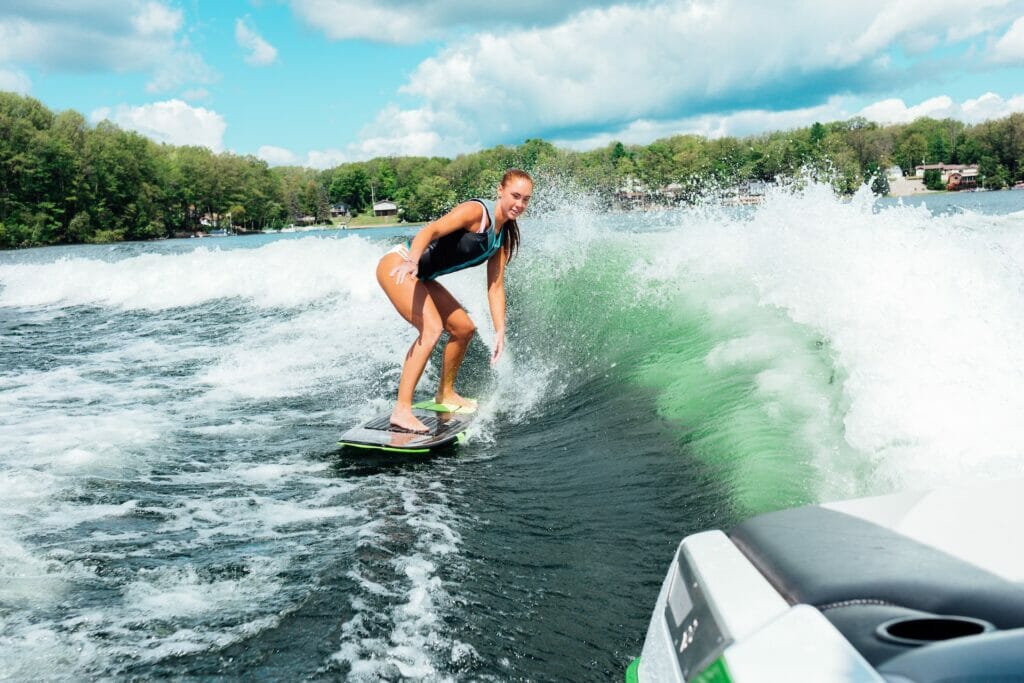 Kayaking in Portugal offers a truly immersive and unique way to explore the country's natural wonders. With its diverse coastline, picturesque rivers, and tranquil lakes, Portugal provides a captivating backdrop for kayaking enthusiasts of all levels. 
Amazing Places for Kayaking In Portugal
Douro River: Kayaking along the Douro River in northern Portugal provides a unique perspective of the Douro Valley's terraced vineyards and charming villages. Paddle through this UNESCO World Heritage region and savor the scenic beauty.
Algarve Caves: The Algarve's dramatic limestone cliffs and sea caves create a mesmerizing backdrop for coastal kayaking. Lagos, in particular, is a popular starting point for kayak tours exploring the iconic Ponta da Piedade formations.
Ria Formosa Natural Park: Located in the Algarve, Ria Formosa is a protected lagoon system teeming with birdlife. Kayaking here allows you to explore a tranquil natural sanctuary.
Mondego River: The Mondego River in central Portugal offers excellent conditions for kayaking, with gentle currents and a serene environment. The picturesque town of Coimbra serves as a convenient starting point for river paddling.
Gerês National Park: In the north, Gerês National Park is home to pristine lakes and rivers, ideal for kayaking amid lush forests and striking landscapes.
Sesimbra: Kayaking off the coast of Sesimbra near Lisbon provides opportunities to explore underwater caves and observe marine life while paddling through crystal-clear waters.
Tips for kayking
Wear the Right Gear: Always wear a life jacket (PFD) and appropriate clothing. Use a properly sized paddle and consider a spray skirt if in a sit-inside kayak.
Start in Calm Waters: If you're new to kayaking, begin in calm, flat water to build confidence and skills.
Learn to Read Water: Understand currents, eddies, and potential hazards. It's vital for river kayaking.
Plan Ahead: Prepare for your trip with a route, essentials (water, snacks, first-aid kit), and knowledge of weather and regulations.
Stay Calm if Capsized: If you capsize, stay calm, retrieve your paddle, and follow your self-rescue training.
Thinking about moving to Portugal?
If you're considering moving from to Portugal, there are several steps you'll need to take to make your relocation as smooth as possible. Here's a general guide to help you get started:
D7 Visa, which is perfect for retirees or those with passive income. The Portugal D7 visa requires proof of regular income or savings, and the ability to support yourself without working in Portugal. It's a great option for those looking to enjoy the country's relaxed lifestyle and stunning natural beauty.
Portugal Digital Nomad Visa
The Digital Nomad Visa for remote workers and freelancers allow them to live and work in the country for up to a year, enjoying all the benefits of the Portuguese lifestyle while earning an income from their remote job or business.
Portugal D2 Visa for entrepreneurs
D2 Visa Portugal in case you are an entrepreneur looking to start or develop a business in Portugal, which allows you to obtain a residence permit for up to two years.
Why work with us for moving to Portugal?
Local Expertise
We know Portugal. Due to our extensive local knowledge, we believe that concentrating our services in a single country destination is the best way to give you the most thorough and useful information. 
Holistic Approach
One single channel of communication for the entire process. We provide you with a comprehensive service that covers all aspects of your move, from identifying the ideal residency visa to finding your new home or helping you to settle. 
Transparent Service
We recommend what's best for you based on an extensive process experience that saves time and money to clients. Our pricing is clear and competitive, and we don't sell services that make us more money.
Simple Process
Technology plays a very important role in our company. We minimize our clients' involvement in paperwork. We are customers ourselves and we know how to serve you.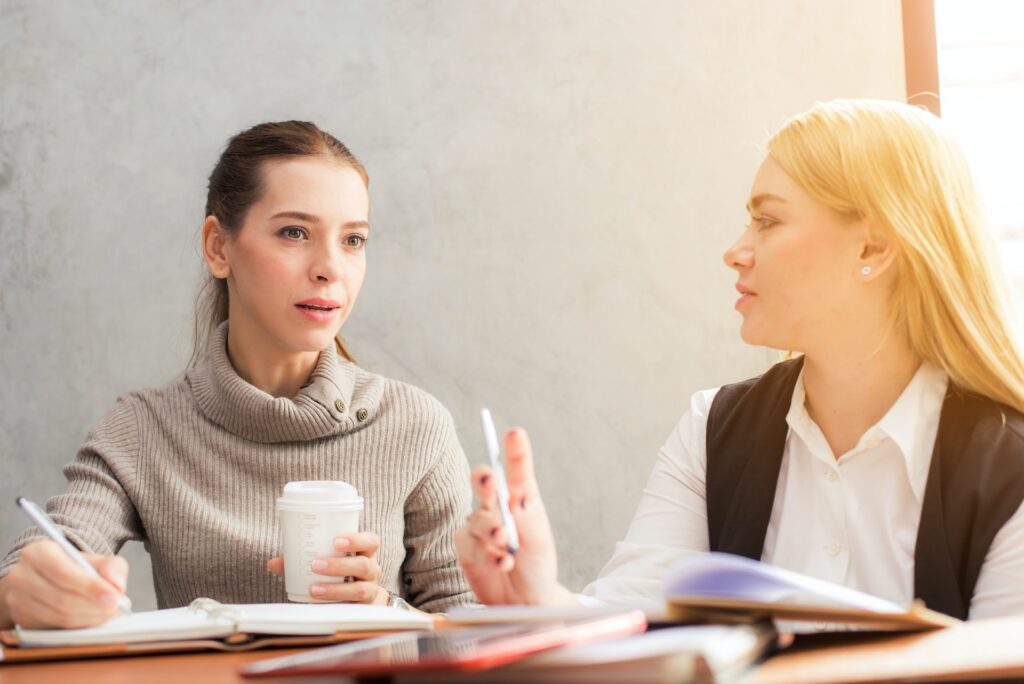 Frequently Asked Questions About Water Sports in Portugal
What are the most popular water sports in Portugal?
Portugal offers a wide range of water sports, but some of the most popular ones include surfing, kitesurfing, windsurfing, stand-up paddleboarding (SUP), kayaking, scuba diving, snorkeling, sailing, fishing, jet skiing, and canyoning.
Are there good surfing spots for beginners in Portugal?
Yes, Portugal has numerous beaches suitable for beginners. Some of the best spots for novice surfers include Praia do Guincho, Praia da Costa Nova, and Praia de São Julião. These beaches offer smaller and more manageable waves.
Where can I find the best surfing spots in Portugal?
Portugal is known for its world-class surf breaks. Some of the top surfing destinations include Nazaré, Peniche, Ericeira, and the Algarve region. These areas offer consistent waves that cater to surfers of all skill levels.
Where are the best scuba diving sites?
Yes, Portugal offers excellent scuba diving opportunities. The best dive sites include Berlengas Islands, Sagres, Porto Santo, and the Azores. These locations provide diverse marine life, underwater caves, and clear waters.
Can I go snorkeling in Portugal without prior experience?
Absolutely. Snorkeling is accessible to individuals of all skill levels, including beginners. Many snorkeling spots in Portugal have calm and shallow waters, making them ideal for newcomers to the sport.
What is the best region for sailing in Portugal?
The Algarve region, with its calm seas and sunny weather, is one of the best regions for sailing in Portugal. Lagos and Albufeira are popular starting points for sailing adventures along the Algarve coast.
Where can I rent equipment for water sports in Portugal?
You can find equipment rental shops at most popular beach destinations, especially in tourist areas. These shops offer surfboards, paddleboards, kayaks, snorkeling gear, and more.
Are there any age restrictions for participating in water sports in Portugal?
Age restrictions can vary depending on the specific water sport and rental providers. However, many water sports, such as paddleboarding and kayaking, are suitable for people of all ages. It's essential to check with the service provider for any age-related requirements or restrictions.