We help individuals wishing to work, study, retire, invest or moving to Portugal
Portugal Residency Advisors is a full-service consulting firm dedicated to providing comprehensive and personalized services to individuals, families and business seeking to relocate to Portugal.
Portugal Residency Advisors is a full-service consulting firm dedicated to providing comprehensive and personalized services to individuals, families and business seeking to relocate to Portugal.
With a team of experienced professionals and strategic partnerships with leading industry experts, we are well-positioned to assist clients with all aspects of the relocation process, including legal, financial, and logistical matters.
Our commitment to excellence and attention to detail ensure that our clients receive the highest level of service and support throughout their journey to Portugal.
Whether you are looking to obtain residency, start a business, or invest in real estate, we have the knowledge and expertise to guide you every step of the way.
We identify the most suitable residency permit for you and our team of experts will assist you throughout the entire process cutting down on delays and rejected applications.
We are your trusted and independent local partner for your property search, regardless of your interest in buying or renting. We are your eyes on the ground.
We provide everything you need, before and upon arrival, in your move to Portugal and to successfully start your new life in Portugal.
We know Portugal. Due to our extensive local knowledge, we believe that concentrating our services in a single country destination is the best way to give you the most thorough and useful information.
One single channel of communication for the entire process. We provide you with a comprehensive service that covers all aspects of your move, from identifying the ideal residency visa to finding your new home or helping you to settle.
We recommend what's best for you based on an extensive process experience that saves time and money to clients. Our pricing is clear and competitive, and we don't sell services that make us more money.
Technology plays a very important role in our company. We minimize our clients' involvement in paperwork. We are customers ourselves and we know how to serve you.
You intend to move to Portugal, whether for work, study, retirement, or simply to experience a new culture and after five years of residence you may decide to apply for the Portuguese citizenship.
You and your family are looking to move abroad to enjoy a warm climate and high quality of life, protect your wealth, secure a better education for your dependents, or simply optimize your fiscal situation.
You want to create your own business in Portugal and take advantage of a supportive ecosystem, as well as a range of qualified professionals in multiple sectors.
You are looking to invest in real estate with the intention of generating income through rent, appreciation in property value, or both.
You want to relocate some of your employees to Portugal and provide the right support to ensure a smooth transition and proper settlement.
In Ventask, we recently worked with Portugal Residency Advisors to relocate some of our employees to Portugal, and we couldn't be happier with the experience. As a company, we highly recommend them to anyone looking for expert guidance on relocating employees to Portugal!
I recently had the pleasure of working with Portugal Residency Advisors to buy my house in Lisbon, and I have to say, these guys are the best! The team was super friendly and did everything to help me find the perfect place. Thank you!
I chose Portugal Residency Advisors to assist me during my move to Portugal, and I must say that their services exceeded my expectations. From the moment I contacted them, Pedro and the team were incredibly helpful and knowledgeable. They were always available to answer my questions.
In which regions do we provide our property services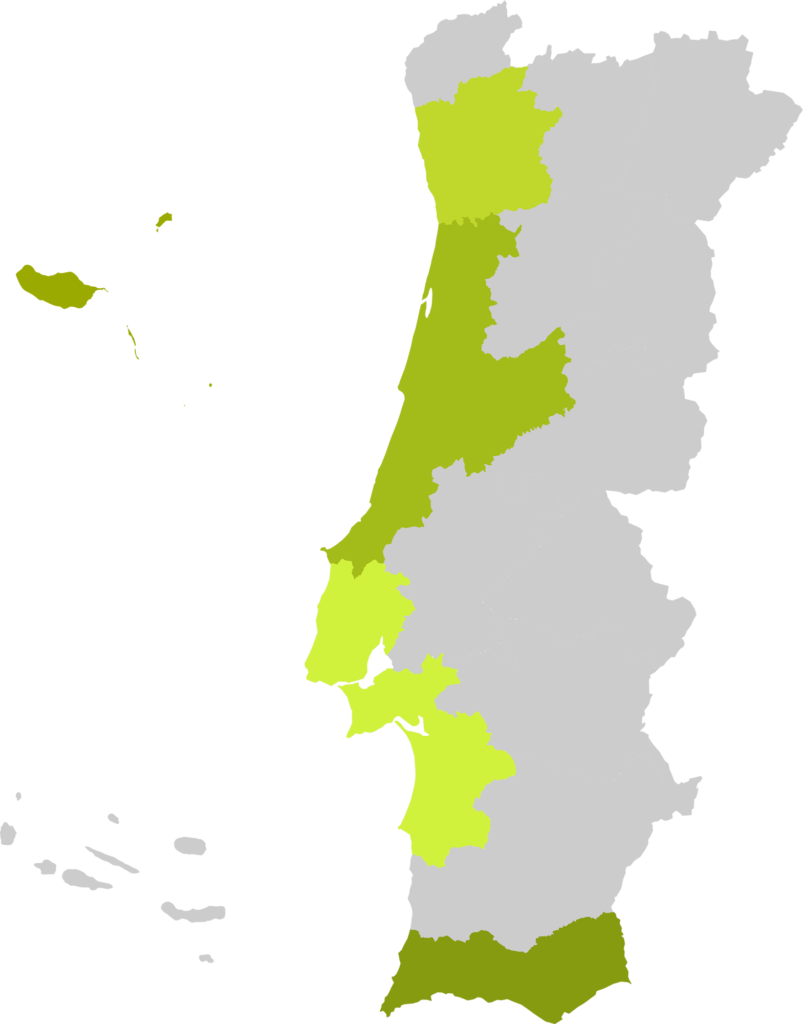 The Lisbon Coast attracts many expats with its mix of old-world charm and modern energy. Lisbon is a vibrant and historic capital, while Cascais and Estoril offer elegant beaches and a cosmopolitan atmosphere. Sintra enchants with its UNESCO palaces and castles, and Setubal is ideal for adventure seekers with its bustling port and beautiful natural parks.
Porto is a lively and welcoming city on Portugal's northern coast, famous for its culture, cuisine, and atmosphere. Expats looking to experience the best of Portugal can enjoy its thriving tech industry and high quality of life. Porto offers a unique and exciting opportunity for those seeking to make a new home in Europe.
The Silver Coast stretches along the western coast of Portugal from Lisbon to Figueira da Foz. With its charming towns, stunning beaches, and rich cultural heritage, it is a popular destination for expats seeking a laid-back lifestyle. The region's affordable cost of living, excellent healthcare, and friendly community make it an ideal choice for those looking to retire or relocate to Portugal.
Situated on the southern coast of Portugal, the Algarve. Known for it's rugged cliffs, golden beaches, charming coastal towns and excellent golf courses, it is a popular destination for expats seeking a relaxed and sunny lifestyle.
Madeira is a breathtakingly beautiful archipelago located off the coast of Portugal. Known for its lush landscapes, stunning beaches, and mild year-round climate, it is a great choice for those looking for a tranquil lifestyle.
Why you should choose Portugal
Portugal enjoys a warm and sunny Mediterranean climate with long, hot summers and mild winters. The country has over 300 days of sunshine per year, making it an ideal place to live for those who love warm weather.
Portugal is located in southwestern Europe which makes it easy to travel to other European countries. Portugal is known for its diverse landscapes, ranging from the mountainous regions in the north to beautiful beaches and coastal areas.
Portugal is a stable democracy with a parliamentary system of government. The country has a long history of political stability, and its institutions and legal framework are well-established. It is a member of the European Union and NATO, which provides additional security.
Portugal has a high-quality healthcare system that is ranked among the best in the world. The country has both public and private healthcare options, and healthcare is generally affordable.
Portugal has a relatively low cost of living compared to many other European countries. Housing, transportation, and food are generally affordable, making it an ideal place to live for those on a budget.
Portugal is considered a very safe country, with a low crime rate and a strong sense of community. The country is also known for its friendly and welcoming people.
Tax haven for pensioners and high net worth individuals who become tax residents in Portugal (10-year tax exemption of foreigner income, such as pension income, capital gains and dividends).
Portugal is consistently ranked as one of the best places to live in the world in terms of quality of life. The country has a high standard of living, with excellent healthcare, education, and social services, and a strong work-life balance.
Portugal boasts a highly educated population, with a remarkable statistic that nearly half of them are fluent in at least one foreign language, mainly English.